Since it's original launch way back in March 2017 there has been rumour after rumour about a new Nintendo Switch Pro but as of yet there has been no sign of this new model. What we have had has been the Nintendo Switch Lite dedicated to handheld gaming and now we have the latest model on which I will now provide my thoughts in our Switch OLED Hardware Review.
Switch OLED Hardware Review – Hello Handsome
Bigger Screen, More Colour But Same Old Switch?
The first thing I noticed as I excitedly unboxed my new white Switch OLED was the new, bigger 7 inch screen. Even before I had turned the console on I was smitten. Extending the screen size was a simple task for Nintendo as they have just decreased the size of the bezel around the screen giving you more gaming goodness for the eyes!
---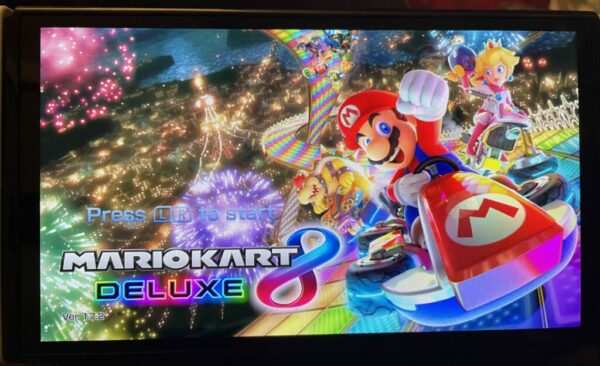 ---
Due to the fact that my copy of Metroid Dread (review coming soon) decided not to arrive at the same time as my new OLED Switch, the first game I fired up was Mario Kart 8 Deluxe and as soon as the game kicked in the brighter colours offered by OLED Vs LCD were apparent. Brighter colours and a much stronger contrast just makes everything look so much better. There might not be any extra power in this thing but it makes your games look even more stunning and that is a huge plus.
It's All Kicking Off – New Kickstand Is What We Should Have Had at The Start
The original Switch kickstand was bloody rubbish and that's being as polite as I can. A small, flimsy bit of plastic that had one angle and easily fell off or broke. It was one of the very few things that Nintendo got wrong with the original model but now they have fixed it and then some.
---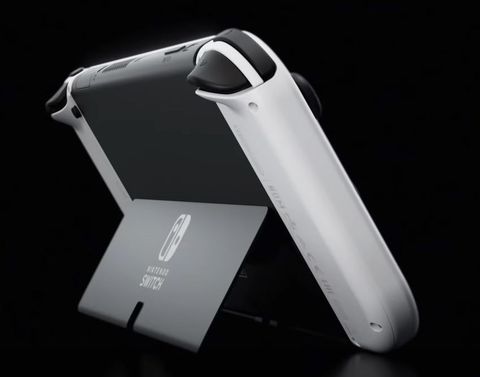 ---
Running pretty much along the full width of the rear of the console, the new sturdier kickstand can be positioned into almost angle you want and will make party gaming on Switch so much easier and much more fun. Underneath hides the memory card slot which now takes cards sideways, with the game card slot still in the same position as before albeit a tad harder to open.
In the Dock
I may as well get the elephant in the room out of the way now and it is the system when docked. Firstly the new dock is gorgeous and has more rounded edges and the white version looks too damn beautiful for its own good. The addition of a LAN port is a welcome one for online gamers although let's be honest, Nintendo and online gaming are hardly great bedfellows are they?
What is great is that the dock can accept your old Switch if you are keeping that one as well as the new OLED model and vice versa.
The reason I refer to an elephant in the room is that if you are Switch player who plays mainly docked there is literally no reason to upgrade your current model. It still connects to the TV in the same way and you will see no difference between games on old and new so there it is. If you own an original Switch and you are not of the means to splash out another £310 then don't because if you don't play handheld you are throwing your money away.
Handheld Supremacy
Nintendo have reigned supreme with their handhelds for years and years and they have now given us what is the best handheld, sorry hybrid, console on the market. The difference in how the games look is more than enough to warrant the upgrade if you are a solely or mainly handheld Switch gamer like myself.
---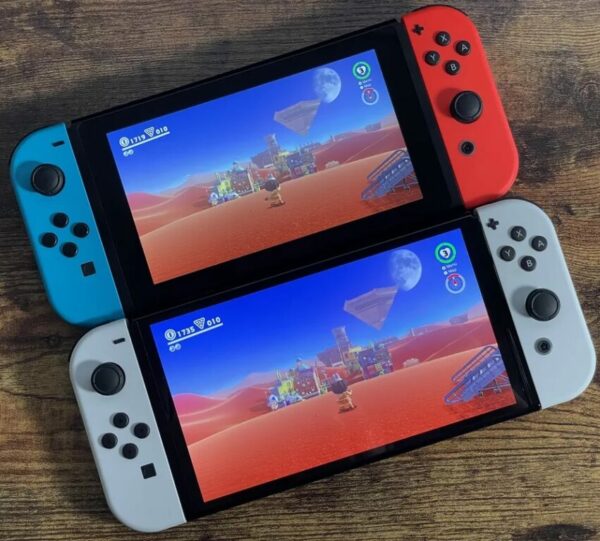 ---
Whilst this is not the Nintendo Switch Pro that so many dream about it is a fabulous upgrade to the original Switch model and if you play this on the train, bus or plane you will have people staring over your shoulder and asking what that amazing game is you are playing because it simply catches the eye. My other half does not play games but even she was impressed when I started playing games on the OLED model. Sharper, brighter and simply better.
The Last Word on Gaming Viewpoint and Verdict
Scoring hardware always feels a harder task than games but here I feel it is not too difficult. Quite simply, if you play handheld you will want this new model but if not it's hard to justify a purchase. If you do not own a Switch at all, where have you been since 2017, then this is the model to buy.
It might not be what everyone really wanted but Nintendo have produced a high quality, luxury Switch that has made me very happy and is a worthy addition to the Nintendo Switch family.
8/10
---