Hit PC game Train Valley is making its way to consoles via Train Valley: Console Edition. While the series is already into its second installment on PC it is a complete newcomer to the console market where dealing with a completely different style of UI might be the series' undoing. I got the chance to play through the Train Valley: Console Edition and in this Train Valley review, I will be explaining why it's a game you should consider buying.
Read More: Worth Life Review (Nintendo Switch)
Train Valley Review (Nintendo Switch) – All Aboard!
Title: Train Valley: Console Edition
Developers: Blitworks, Flazm
Publisher: Blitworks
Players: 1
Genre: Puzzle, Simulation, Strategy
Platforms: Xbox One, PS4, Nintendo Switch
Release Date: July 27, 2022
What it Says On The Tin
Train Valley, as you may imagine, is a game about trains. Specifically getting trains from point A to point B without everything blowing up in your face. It's quite the simple premise and I liked that it never felt the need to overcomplicate things. Everything from the graphics to the sounds and the mechanics are all kept quite simple throughout the game.
I also liked the added touch of having bonus objectives on top of the main aim. This gives me the choice of just completing a level normally or challenging myself to hit all of the necessary objectives which can add some real challenge to an already difficult level.
Read More: Farm Tycoon Review (Nintendo Switch)
Easy to Pick Up
While at first, I was completely terrible at my job of getting the trains from one place to another I quickly picked up on the game's controls, but not after restarting some early levels in embarrassment.
Train Valley doesn't do a lot to hold your hand. I was allowed to make mistakes and come to grips with the best ways of building railways or timing departures on my own. It can be quite easy to get cocky or overwhelmed and watch everything (literally) blow up in your face but I always came away with a determination to be better rather than annoyance at the game being too difficult.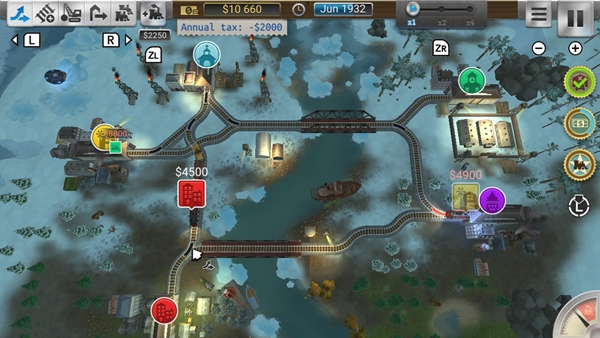 Once I did master the mechanics of the game I found it a breeze to get through most of the levels normally, although I was still made to sweat on occasion. I especially had some nervy moments after learning that trains will automatically depart on their own if left waiting too long, adding another bubble of stress to my day.
Things Can Get Tedious
As much as I enjoyed this game and its simplicity there was the odd occasion where it failed to keep me interested. This isn't the kind of game I'd play for hours on end but something that I will pick up and play if I have some time to spare, and that's totally OK. Not every game needs 10 different modes and hours of storylines.
While actually playing a level I rarely felt bored or disengaged and that's largely down to how well this game will capitalize on any mistakes. It was once the levels ended that I would often question if I really wanted to start that next level.
Read More: Lego Star Wars: The Skywalker Saga Review (PS5)
Train Valley Review – Last Word on Gaming Viewpoint
Train Valley: Console Edition is a very good transition to consoles for the PC staple. While the User Interface at times isn't great almost all PC-focused games struggle to make that change for consoles. Ultimately, the gameplay is very enjoyable and strategy fans will have a good time thinking three steps ahead to make sure things at the station continue to run smoothly.
Train Valley Review – The Verdict
7/10
*This game was reviewed via a press code*
Stay tuned to Last Word on Gaming for all the latest gaming news and review