Often I find games that involve making decisions a bit too obvious and they can quickly fall flat as I become aware of where the narrative is taking me rather than where I am taking the narrative. So when I got my review code for Lacuna from Assemble Interactive, I must admit to feeling a bit of trepidation. Thankfully those trepidations were not warranted as you will seen in my latest LWOGaming quick review- Lacuna.
LWOGaming Quick Review – Lacuna
Title: Lacuna
Developer: DigiTales Interactive
Publisher: Assemble Entertainment
Players: 1
Genre: Adventure, Puzzle, Point and Click
Platforms: Steam, Xbox One/Series S/X, PlayStation 4/5
Release Date: 28/12/2021 Nintendo Switch
Sci-Fi Noir
What I really want from a point and click adventure is for there to be some consequences to my actions rather than pre meditated nonsense where what I choose to do is ultimately taken out of my hands and I get given the ending that was pretty obvious all along. And here it is! Lacuna doesn't spoon feed you and let you correct your mistakes – if you make a mistake you must carry on and live with the consequences of your actions.
Here Come The Men In Black
You take control of Neil Conrad, a CDI agent who is thrust into the midst of a murder on his earth-like planet and you need evidence to put the pieces of the jigsaw together to get to the truth. If that sounds like a simple plot, think again because this is one of the most complex plots and well thought out games I have played in quite some time.
Choices, Choices
You will interview suspects, witnesses and be hounded by your boss who looks rather like Donald Trump in a trench coat but that may be just a coincidence. Not only do you have to ask the questions but you will have questions thrown back at you and that's when you start having to think about how you will respond. Do you want to gain someone's trust or will you just go for the jugular and ask the questions you always want to ask when watching a detective programme?
The choices you make are real and a great touch is that you have each part of a crime to solve and are drip fed clues in the form of 'sheets' that you can access through a side menu. You then have suggestions such as 'was the gun shot fired from the casino or the hotel across the way?' You could just guess but invariably when I tried this I got it completely wrong. But you can just go back and change your answer by process of elimination can't you? Not here you can't and that is what makes Lacuna really stand out from the crowd.
Immersive
I found myself so immersed in this game that I was writing down clues on a notepad to make sure I didn't miss anything. There are several endings to the game and on the three playthroughs that I managed, it really was different every time and I always felt that the outcome was down to me and my good or bad choices throughout the game.
You interact with objects and people and if you need a quick rest you just pop to the relevant areas and light up your cigarette.
---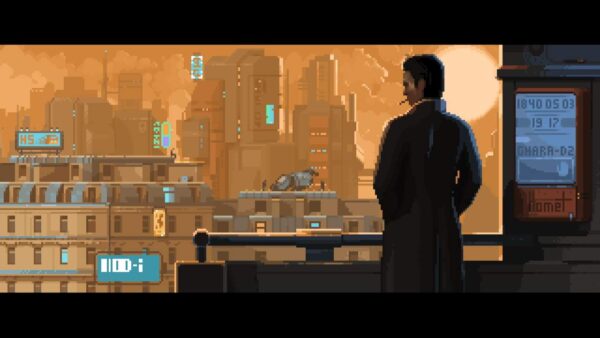 ---
PIxel Perfect and Moody Blues
I am a sucker for pixel graphics and Lacuna's visuals are blooming marvellous. Dark, mean and moody and the animations are superb. I mean really superb. The movement of hair is apparent and my favourite is when you light a cigarette and get out a Zippo lighter. As pixel graphics go these are right up there with the best of the best.
---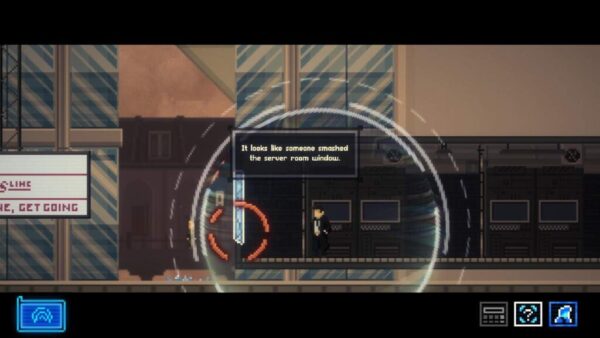 ---
On top of the fabulous visuals and excellent story is the soundtrack which is jazz and blues and some really deep piano playing. The change in tempo as things heat up is superbly orchestrated and changes from lounge music in the hotel to the underground are perfectly captured. As someone who spent a lot of time in London as a child, the echoes and tannoys of the underground just sound so perfect and it is just impossible to fault the way this has all been put together.
The voice acting for Neil is also spot on feeling like a proper film noir or Sam Spade type detective novel. The attention to detail and effort put into Lacuna is simply astonishing.
LWOGaming Quick Review – Lacuna. My Verdict
The only slight glitch I found with Lacuna was at times the screen didn't start to scroll quite quick enough and I lost Neil off the screen but it was very rare although still annoying when it occurred.
However – Lacuna is one of the best examples of point and click, adventure, puzzle and detective gaming I have played for I don't know how long. From the mysteries changing to the multiple endings and the sound and visuals, this is truly an absolute gem of a game and one that deserves its place in your collection.
9.5/10
---
Leave your comments in the comments section below and let us know your thoughts!
 Stay tuned to Last Word on Gaming for all the latest gaming news and reviews. Follow us on Facebook, Twitter, and join our Discord Server.