Developer Rough Cyber Humans and publisher 7 Raven Studios bring a puzzle game of matching colours that will test your strategic skills, memory and deftness of hand to eye coordination. This house full of magic has a beautiful hand drawn style so lets see what I found in our Ghosts and Apples review.
Ghosts and Apples Review – Bizarre Story With a Tale to Tell
Title: Ghosts and Apples
Developer: Rough Cyber Humans
Publisher: 7 Raven Studios
Players: 2
Genre: Puzzle, Arcade, Action, Adventure
Platforms: Nintendo Switch (Reviewed), PC
Release Date: October 29th 2021
Ghostly Goings On
The story begins as you arrive at a house full of mystery and there are bizarre twists to come. As a ghost spies through a window there is a coat hanger but all is not as it seems as this coat hanger is really an octopus! There is a cauldron of potion being guarded by a huge raven and your soul has been taken and given to a puppet; Now you must bring back Jack Redrum from the puppets grasp. Your task is to catch ghosts and turn them into apples as you traverse the House of Frantic Pictures.
Slowly through beating the puzzles you will learn more about the mysteries that rule the house.
Hand Drawn Visuals and Haunting VGM
---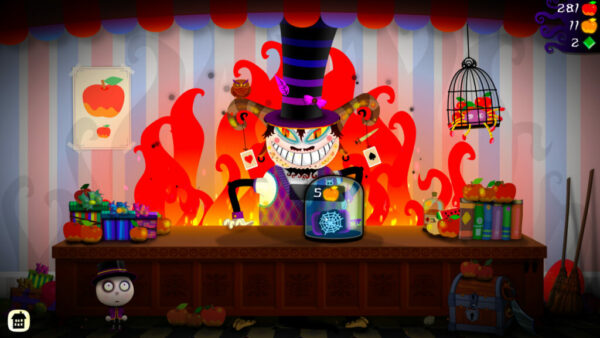 ---
The visuals are beautifully hand drawn and animations are neatly comical with Jack pulling faces as you catch each of the ghosts or not as the case may be. The soundtrack is also well devised and effects will on occasion make you jump.
The developers have also made the game further accessible by adding in a colour blind mode so everyone who loves a good puzzle is well catered for.
Jack Redrum – Simple Concept, Expertly Executed
Matching colours, shapes and items games have been done to death from Candy Crush to King Royale but Ghosts and Apples manages to avoid falling into the trap of being too samey or familiar. The story is well delivered and the puzzling is a high quality blend of being easy to learn but difficult to master and as you progress further and further into the games' 150 + levels that difficulty does ramp up and the pace also picks up adding to the adrenaline rush the game can provide. Whilst adrenaline rushes and puzzle games are not always what you would expect to see in a sentence together, this game has been pitched to succeed on a number of levels.
---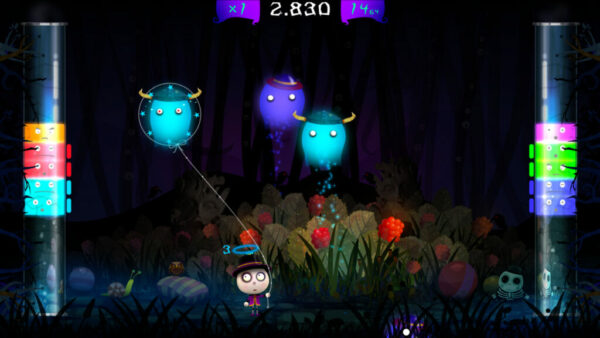 ---
The controls are easy to pick up – The X and B buttons will move your captured ghosts to the right hand capture tubes with X taking the ghost to the top and B taking them to the bottom.
Up and down on the left control stick do the same for the left hand capture tubes. As you go from room to room you will be sucked into each picture and then face the challenge of collecting the minimum number of ghosts or more to complete the stage. If you run out of time or don't collect enough ghosts you can either retry or come back another day which you may sometimes want to do as you will find certain stages can become frustrating and need time away before coming back and re assessing the situation.
When I say frustrating, I don't mean in the sense that there is something wrong with the game , it is just that the game will challenge you to the very limits of your puzzling capabilities. Moving ghosts left and right starts as an easy task but as you progress you will find that suddenly it's harder than you thought possible and this is a fiendish game without a shadow of a doubt.
Ghost and Apples Review – Puzzling Perfection
I alway find that the problem with some puzzle games is that after too shorter a time they can become all too dull and lose their magic but that is never the case with Ghosts and Apples as the art style, the puzzling itself and the two player local co op all keep the game fresh and interesting for as long as possible. In my 35 + years of gaming I have only ever found Tetris to be the perfect puzzle game but right now there is a new contender and I hope this game receives DLC to keep it going for even longer. Quite simply this game is a magical piece of puzzling and deserves to get full marks.
10/10
---