As much as I enjoy handheld gaming above possibly all else, the one thing that causes me issues is the tiredness in the hands after long sessions so a quality gaming grip is essential kit. Having recently reviewed the new OLED Switch, I have now had the chance to look at the Skull & Co. Nintendo Switch grip for both the new OLED and original model.
Nintendo Switch OLED Grip (Fits Original Model Also) Review
Skull & Co. Grip Provides Comfort and Quality
Skull & Co. have been associated with high quality accessories for a long time so my expectations were already high ahead of placing my order. I had already tried two grips for my new OLED Switch and both were made from shoddy plastic and were incredibly brittle. Both were returned with haste and comments given that left the makers in no doubt that their products were basically tat.
As soon as the Skull & Co. delivery arrived it was well packaged – none of the typical Amazon packaging where you get a small product in a box ten sizes too big here – and the main packaging immediately shouted 'quality product' at me.
---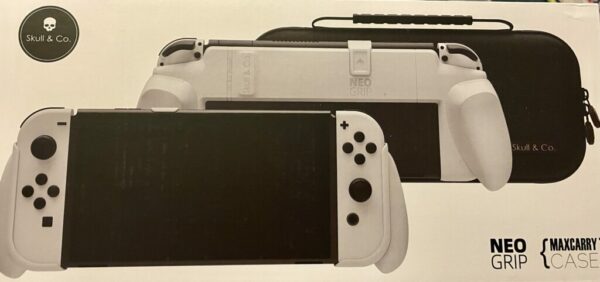 ---
Solid Protection – No Flimsy Plastic Here!
Everything inside the box is well protected and the first thing I noted was just how high quality the PC made product is. Sturdy with no bits that can break off which created a great first impression. The kit comes with three different designs of grip that slide on to the back of the grip itself so all hand sizes are catered for, another huge plus giving great value for money.
---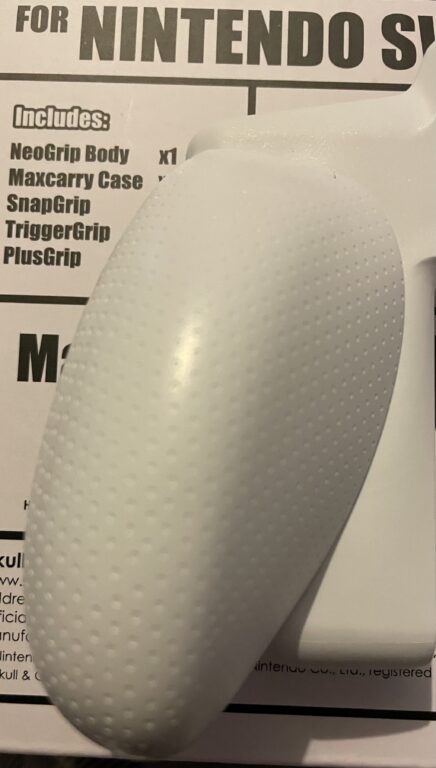 ---
Kickstand Accessible For OLED Model
The unit that your Nintendo Switch sits within is a perfect fit for both OLED and original models and leaves the kickstands accessible on both. In terms of the original model I would be surprised if anyone still uses the horrible kickstand but with the OLED model the kickstand is a fabulous addition and you have full access with this unit. This isn't a grip that has been thrown together for casual play. Skull & Co. have thought about the gamers' priorities and all eventualities are catered for.
---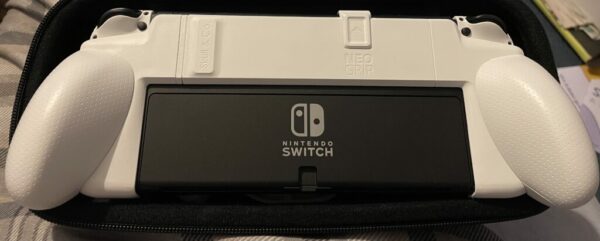 ---
Case Solved
The product that we at Last Word on Gaming purchased came with the Maxcarry case and this is in keeping with the whole package. A firm case that will house your Nintendo Switch with grip unit in place, space for the additional grips and storage space for 10 games as well as space for additional accessories should you need to carry them with you. This really is just a superb product in every way.
---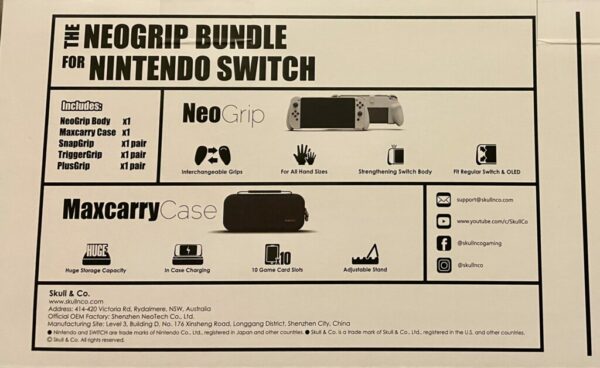 ---
The Verdict
The $39.99 price point for this kit may sound higher than some will want to pay but if you want the best grip on the market that will last for years and give you additional hours of more comfortable Nintebdo Switch handheld gaming this really is the only option and there is nothing I can find that would put me off recommending this to everyone. Shipping was superb from abroad and arrived within 10 calendar days. Truly a high quality product that is worth every penny.
10/10
This review is fully independent and the product was bought by the reviewer and not supplied by the manufacturer.
The Nintendo Switch OLED grip (also fits original Switch) is available directly from Skull & Co.