FPS Kingdom of the Dead is coming to PC in January 2022 from indie developer DIRIGO Games and Hook who are a new publishing arm of Digital Bros Group. This is a unique looking first person shooter with a black and white film noir aesthetic and the trailer certainly looks intriguing for this one and can be found at the end of this article.
---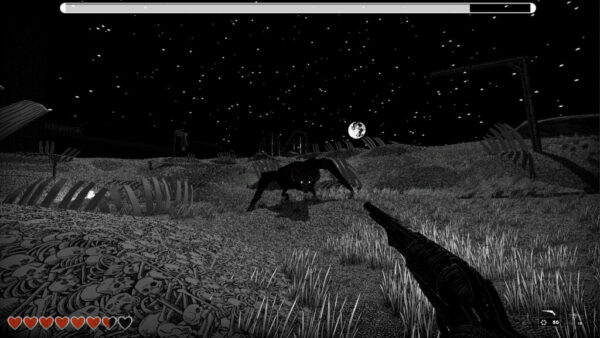 ---
 FPS Kingdom of the Dead Will Have You Quaking in January 2022
Action Packed
Kingdom of the Dead takes your typical FPS and mixes it with black and white pen and ink style visuals to give the game a truly unique look. You must battle against Death and his or her growing army that will try anything to get rid of you.
Demo
Giving players the chance to play demos of games has really come back to the fore in recent years and it's a sigh of a growing trust and relationship between developers and gamers that we at Last Word on Gaming are fans of.  If you want to try out the first level of the game in full on PC you can pre register here at the Alienware Arena website.
Gamers will be handed the opportunity to play on different difficulty settings as well as being able to see the difference in colour modes.
Newly Empowered Death Must be Stopped
Death amasses his monsters into the shadows and only you as Agent Chamberlain can stop them spreading into the world and causing sheer and final destruction. You will hunt the undead across the East Coast of America with eight weapons to equip as well as some really solid and old fashioned bosses who will test your wit and reactions.
January 22
Kingdom of the Dead releases on PC on January 2022. Is this a game you are interested in? Last Word on Gaming will give you the full lowdown when we review the game in early 2022.
Unitil then, enjoy the trailer and let us know your thoughts via our social media accounts – Twitter @LWOGaming and Facebook.
---