Zdenek Zeman is one of the most interesting coaches in all of football. His emphasis on attacking, scoring, and giving it all to the team have made him something of a cult hero. Every year on Football Manager, players try to recreate his tactics, in this article I will be giving my interpretation of how to successfully play like Zdenek Zeman in Football Manager 2023.
Read More: FM23: Best Bargain Goalkeepers
Zdenek Zeman Tactics in FM23
Core Ideas
For those unfamiliar with Zeman, his tactics are based on a standard 4-3-3, except he takes things a step further. Incredibly high pressing, full-backs who act as wingers, blistering cross-field balls, and goalscoring chances galore are the backbone of his play style.
Setup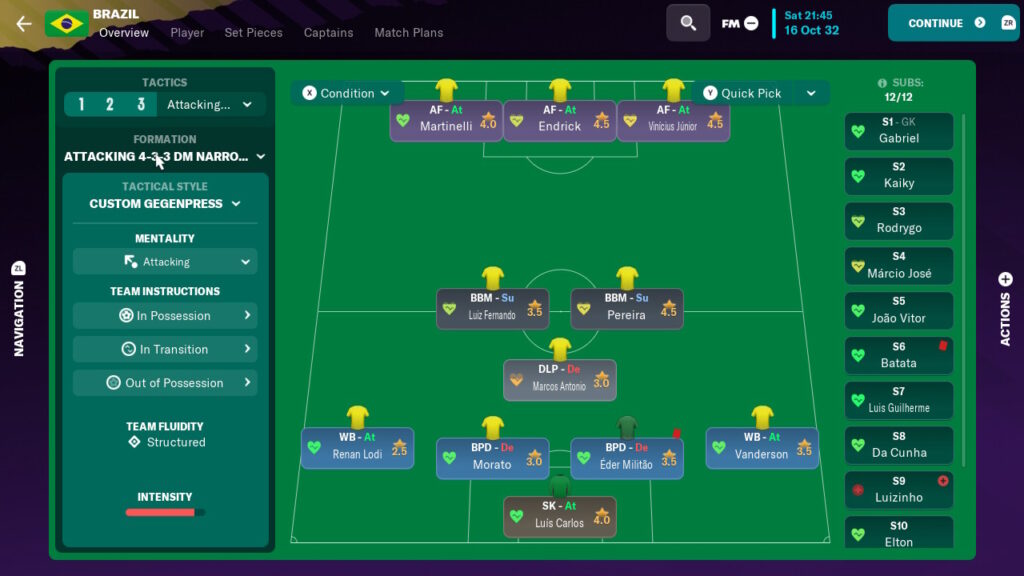 The name of the formation is an Attacking 4-3-3 Narrow – Custom Gegenpress. To start with choose the standard 4-3-3 DM from the Gegenpress menu and immediately move your two wingers to strikers, yes three strikers.
Have two central midfielders sitting in front of a DM and leave the defense as is, I'll get into roles later.
In Possession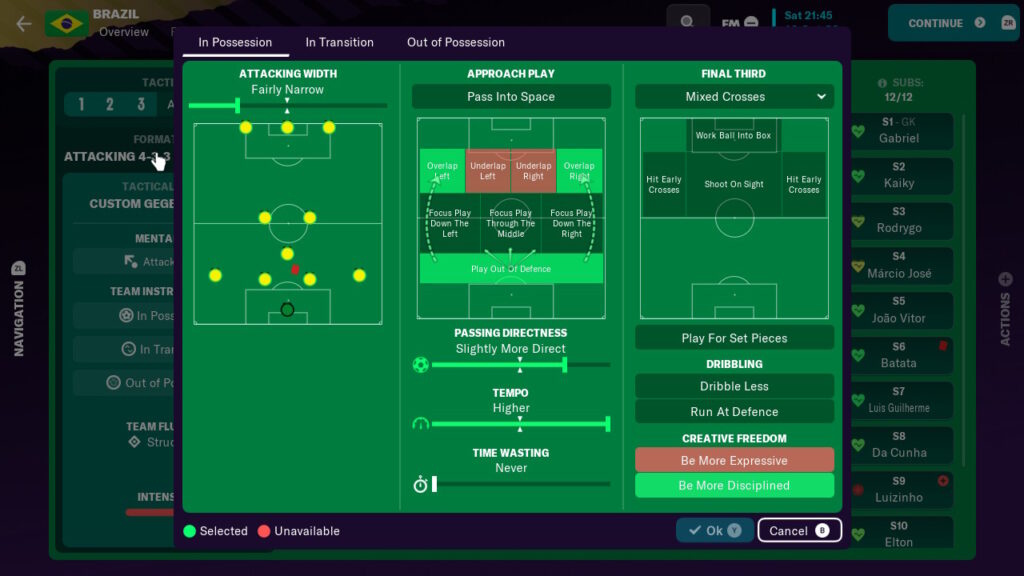 While this is open to minor tweaks, I set "Attacking Width" to Fairly Narrow to further attack the box with my three strikers. For approach play DO NOT turn on Pass Into Space, this is usually a great tool in FM saved but I found it just ended with me giving possession away every time I got on the ball.
Turn on Overlap Left and Overlap Right as well as Play Out of Defense. For passing directness, set this to Slightly More Direct with tempo set to Higher.
I tend to leave crosses as mixed but you can adjust this based on team strengths and the only other option I turn on is Be More Disciplined.
The way this sets up the team is that the midfielders and strikers stay narrow while the full-backs overlap to provide width. The passing directness and tempo mean that my players get the ball forward quickly which leaves the other team's defense scrambling to deal with three strikers attacking the box and two full-backs surging out wide.
In Transition
Pretty simply, never stop moving! When possession is lost or won, counter. Make the goalkeeper distribute the ball quickly and make him play it to a defender with a short kick. This sets up my team to start building from the back and take advantage of any opportunities to counter.
Out of Possession
Line if engagement is set to High Press while the defensive line is Much Higher. Trigger press is set to maximum while "Prevent short GK distribution" is OFF. This is another setting that sets you up for failure as it often leads to the opposition getting the ball back from your goal kicks.
Tackling is of course set to getting stuck in while the defensive line steps up more to play offside and the pressing trap funnels players inside where they'll have to deal with your DM and defenders.
Roles
I honestly can't say how important it is to follow these exactly as laid out but I can confirm that these roles have brought me a lot of success.
GK – Sweeper Keeper Attacking
LB – Wing Back – Attacking
CB – Ball Playing Defender – Defend
CB – Ball Playing Defender – Defend
RB – Wing Back – Attacking
DM – Deep Lying Playmaker – Defending
CM – Box to Box Mid – Support
CM – Box to Box Mid – Support
ST – Attacking Forward – Attacking
ST – Attacking Forward – Attacking (CAN be Target Forward if player excels in that role)
AST – Attacking Forward – Attacking
Read More: FM23 Challenges
Does it Work?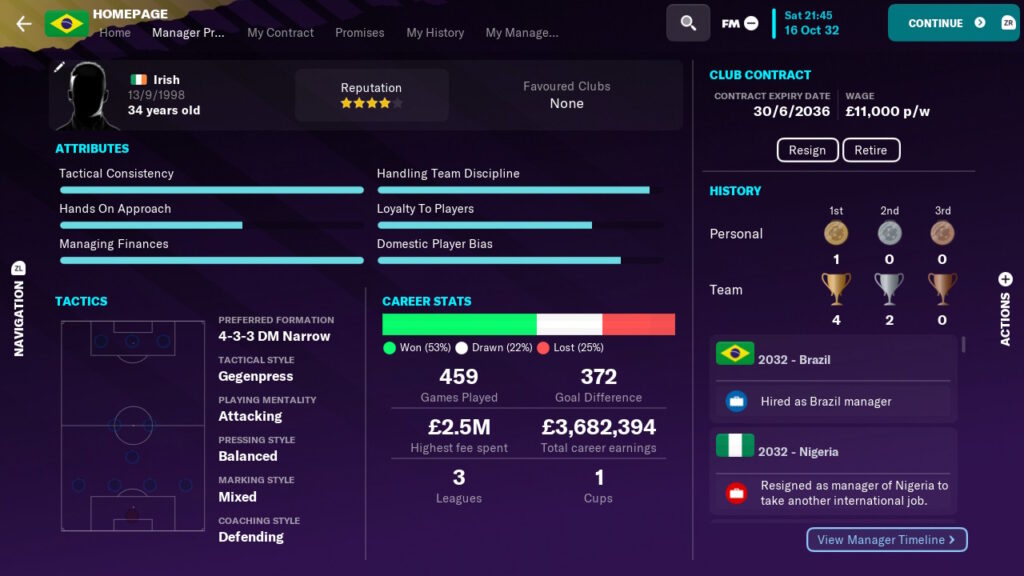 While recreating Zdenek Zeman can be fun, it is difficult to make it work results-wise. The FM engine has a hard time dealing with a formation that is so gung-ho about defending and seeks only to overwhelm the box. That said, I have found great success with this tactic in Football Manager 2023.
In just over 10 years with this tactic, I have been at four different clubs and two different national teams. I have twice been promoted from the third division of Spanish football to the top division, setting records along the way. At my first club, Deportivo la Coruna, I had Gorka Santamaria set goalscoring records by scoring 30 goals in a single season.
I broke this mark at my third club, Leganes, where I had a player named Alvaro net 36 times in a season. I was promoted in back-to-back seasons with Leganes.
As manager of Nigeria, I walked to an AFCON win and won two different competitive games by 13 goals to nil before being approached to manager Brazil where I have won all four games so far including a 4-1 win over Argentina, a 5-2 win over Colombia, and big wins over Peru and Chile as well.
In my estimation, this Zdenek Zeman influenced tactic has been a lot of fun and brought me great success. I often outpace pre-season expectations for my teams and at international level, it has been unstoppable, I would have to recheck but I don't think I lost a single game while in charge of Nigeria, and the same goes for Brazil so far.
Leave your comments in the comments section below and let us know your thoughts!
Check out the rest of our 
tips & guides
to find other helpful content for Football Manager 2023.
Stay tuned to Last Word on Gaming for all the latest gaming news and review