Are eWallets and their ilk at the heart of gaming's global popularity?  
Ok, so the popularity of gaming has been blossoming for quite some time now, and plenty would argue that the industry wasn't exactly in need of a revolution. However, it would be impossible to ignore the massive impact that fintech has had on driving the growth and longevity of digital gaming.  
The gaming market is currently riding an all-time boom, having been valued at over $180 billion in 2021 and expected to grow to as much as $314.40 billion by 2027 – according to Mordor Intelligence. Fintech has reshaped the way players interact with their games, enhancing the gaming experience by supporting the distribution of digital assets.  
Fintech and Gaming Are Closely Linked 
While gaming remains a mainstream entertainment industry, it has always been linked to the practice of commerce. If you think about a typical 1980s or 90s video game, that game had to be bought and sold in brick-and-mortar storefronts. As gaming made the leap to the digital realm, so too did the methods that gamers use to purchase and access games.  
Digital gaming is supported by a comprehensive payment structure consisting of different online marketplaces. These include game payment models – freemium, play to earn, pay to play – while transactions can be made using a variety of fintech methods, including eWallets, debit or credit card tokenization and electronic bank payments. Cryptocurrency, too, is starting to have a lasting impact on the gaming sector.  
How Has Fintech Impacted Gaming? 
You only have to look at the gaming habits of modern players to see the impact of fintech on the gaming industry. Once players are immersed in their favourite games, they're quite happy to use digital payment methods to make in-game purchases, whether that be for the latest upgrade or to equip their characters with the coolest gear or power-ups.  
Being able to purchase video games online gives players instant access to their gaming content. It's a seamless process that itself is contributing to far more gaming-related sales per year than traditional purchasing methods. For example, according to Statista, 83% of all the video gaming purchases that year were made in digital form, meaning that only 17% of the total sales involved physical video games. 
Take the ubiquitous Fornite as a case in point. This is a free-to-play game that can be downloaded and played on everything from traditional PCs to mobiles and tablets free of charge. However, the game itself is based on the freemium model, meaning that it has several features that can be unlocked with microtransactions and in-game purchases.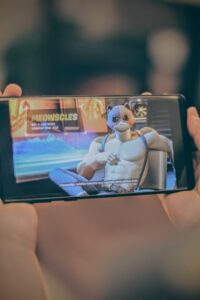 The game's player base is so devoted that collectively they've spent billions of dollars since the game's inception, sometimes even on in-game items that have no impact on the gameplay itself.  
Furthermore, the reach of eWallets like Neteller and Skrill has extended beyond the more conventional video gaming segments; they've also played a key role in modernizing the iGaming sector. By enabling gamers to effortlessly load up their accounts to access real money poker titles and even make withdrawals, digital wallets make iGaming a seamless process that provides gamers with instant access to their funds. In previous decades, the main choices on offer were debit cards, with their longer processing times, and fee-inducing credit cards. 
Boosting the Latest Developments in Gaming Tech 
It's no stretch to hypothesize that the increased presence of fintech in the gaming industry has also contributed to the development of the newest advances in gaming tech, such as cloud gaming.  
Cloud gaming is based on the same premise as content streaming platforms like Netflix, or cloud storage applications such as Dropbox. By utilizing the processing power of massive offshore servers to virtually host games and applications in 'the cloud', software development companies are able to provide gamers with immediate, real-time access to even AAA titles on any internet-connected device, including mobile devices.  
Since cloud streaming services can be both subscription-based and individual purchase models – paying a monthly membership and making additional game purchases for brand new titles, for instance – fintech provides a convenient way for players to both create their accounts and maintain them.  
Check out the rest of our 
tips & guides
 to find our other builds and tips for NBA 2K23.