Today, the Nintendo Switch Online Expansion Pack will be joined by the Nintendo 64 side-scrolling platformer, Kirby 64: The Crystal Shards. This is the latest in a line of N64 games made available on the Switch's premium online service. In addition, Expansion Pack subscribers have access to a number of Sega Genesis games.
Kirby 64 will be made available to said subscribers, complete with suspend points and other user options. Furthermore, this is the latest in the second wave of N64 titles added to the Expansion Pack, as Pokemon Snap is the only one remaining.
Kirby 64 Arrives on Nintendo Switch Online
What to Know Before You Play
Years before Kirby and the Forgotten Land hit the Nintendo Switch, Kirby 64: The Crystal Shards was seen as the first "3D Kirby" game, though it's mechanically similar to 2D side-scrolling titles. In Kirby 64, the series' iconic pink puffball scours various planets for pieces of a crystal broken by Dark Matter. Along the way, he reunites with old faces such as Waddle Dee and King Dedede, in addition to new friends including Ribbon the fairy and Adeleine the artist.
Kirby 64 saw a number of innovations compared to its predecessors, even beyond the new 3D graphics. The most prominent of these innovations is the franchise's iconic Copy Abilities, which can be combined to create new powers. These combinations add to the game's replayability, not only in terms of manoeuvring through levels but of uncovering secrets in said levels. Kirby 64 also comes with a series of mini-games that can be played locally or online with friends.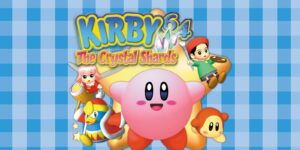 Last Word on Gaming Viewpoint
Though the Nintendo Switch Online Expansion Pack was initially met with resistance from the general public, additions such as Kirby 64: The Crystal Shards add to the subscription's value. It's been available in different ways since its original release in 2000, including the Wii and Wii U Virtual Console services, not to mention Kirby's Dream Collection for Wii. While this game may not sway most to subscribe to the Expansion Pack, it's another well-regarded title that's worth being on the service.
Are you excited to revisit Kirby 64 on Nintendo Switch? Will this be your first time experiencing Kirby's first adventure in 3D?
Leave your comments below and let us know your thoughts!
Stay tuned to Last Word on Gaming for all the latest gaming news and reviews.