FAR Changing Tides is the sequel to the award winning FAR: Lone Sails from Frontier Foundry and Okomotive Games. A puzzle game that sets sail in a bleak world and one in which you learn as you go to navigate obstacles and ultimately survive in aworld falling apart. A world that is perhaps rather too familiar to the one we find ourselves in today. More than just a puzzle game, this is a game with a story to tell and a voyage of discovery.
FAR: Changing Tides Review (Nintendo Switch)
Title: FAR: Changing Tides
Developer: Okomotive
Publisher: Frontier
Players: 1
Genre: Action, Adventure, Puzzle
Platforms: Nintendo Switch, Steam, Xbox One, Xbox Series S/X, PlayStation 4/5
Release Date: March 1st 2022
Slow Start
Its a bit of slow start with this game so it was important that I stuck with it to see how everything panned out. You begin being able to swim and move between platforms to get used to how your character handles and it's all a bit bland. The scenery feels dull and desolate and lacks any real coherence but thankfully this is only a short introduction and the pace picks up quickly thereafter.
---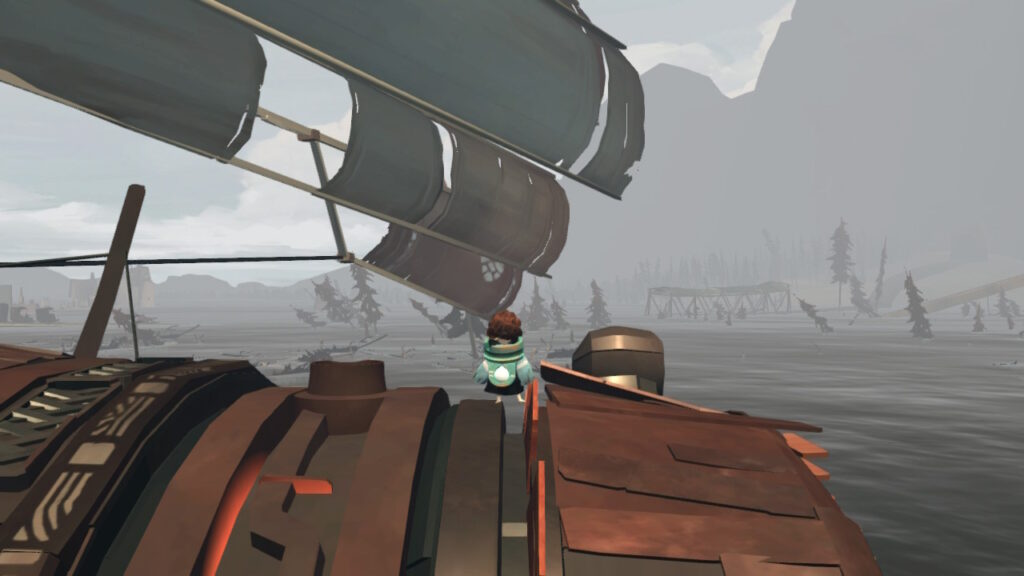 ---
As you find your vessel, the look of the game is much clearer and the sense of size is suddenly thrust upon you. You are a very small dot on the landscape and this serves to portray the sheer magnitude of your vessel, the world around you and the sheer desolation.
Steampunk
There is a steampunk feel to the game with machinery being made of weird and wonderful technology. You are on your own and there is no one to help you but your wits and attention to detail. You need to be prepared to work with trial and error and some puzzles are simple needing a button to be pressed to allow your vessel through without taking your sails out whilst others are more technical and need more thought and require collecting of items to burn and stoke the ships engine.
Story
There are no long introductions to the story here. No text or meetings with other people to explain what you are going to do and why. The story is that you must survive alone. No sudden or severe plot twists here and your imagination can run wild.
---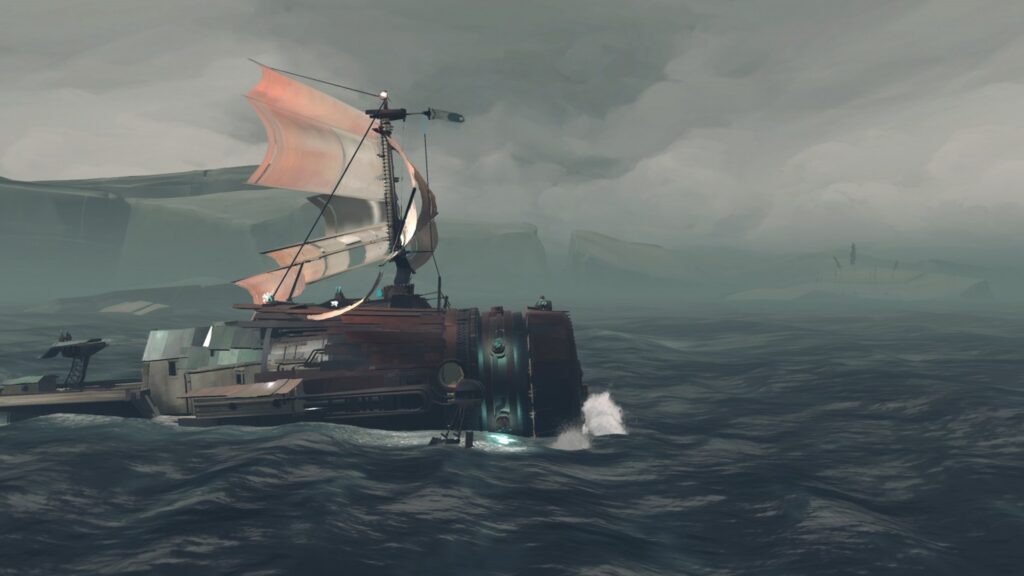 ---
It is clear that the world is post apocalypse with everything destroyed and there is a sadness to the proceedings. This is equally presented by the sound which is minimal yet entrancing. The wind whistles through your ship and your mind and the fire burns loudly as you add more fuel to the engine room. The sails creak and crack as you put them up and move them to the desired angles. Your footsteps in the ship are clear and further encapsulate the feeling of isolation and loneliness the game brings.
Changing Tides and Times
One area of the fist game that spoiled it at times was that the vessel in that game was a bit flat and one dimensional. You went left and right but there was very little else you could do but what makes a good developer is when they hear feedback and use it to improve the experience the next time around and that is exactly what Frontier have done with Changing Tides.
Rather than just moving left to right you can now go up and down and it results  in the game having more depth. I enjoyed the fact that I was not tied to the ship and having to get out into the water to find new items to burn or clamber up platforms to get to higher places works really well. I always felt that I was exploring and each puzzle adds new variables which keeps what could be a bland adventure nice and fresh throughout.
Gripes and Grinds
For all of the good points to this game there are also some niggles that I found to take some shine off an otherwise impressive title. Occasionally when you jump or try to climb ladders out of the water it doesn't quite come off and feels unnecessarily fiddly. You are not against the clock so any wasted time doesn't cause you any issues as such but it does make certain parts of the game become tedious and overly tricky. It is such as a shame as it really does at time spoil proceedings.
---
---
A Voyage of Discovery Worth Persevering With
Despite the little niggles, FAR: Changing Tides is a delightful game that will work your brain and make you sit up and take notice of the world around you. The mechanics are well thought out and common sense will help you through in the majority of situations.
I would highly recommend that before playing this game you do play the prequel as it will help you understand what is expected of you and I am glad I did that before sitting down to play and review this sequel. Overall this a game that is a voyage of discovery well worth persevering with and the rewards far outweigh the occasional gripes.
FAR: Changing Tides Review – The LWOGaming Verdict
7/10
---
Leave your comments below and let us know your thoughts!
Do you agree with our FAR: Changing Tides Review?
Stay tuned to Last Word on Gaming for all the latest gaming news and reviews.