One of my favourite games of all time is Micro Machines and how I long for a reboot on Nintendo Switch which I feel will be such a good fit. However, my itch is now able to be scratched with Ratalaika Games taking me back to 1992 with small cars, fast and frantic action and all for an affordable price.
Retro Racers Moto Roader MC Review (Nintendo Switch) Start Your Engines
Title: Moto Roader MC
Publisher: Ratalaika Games
Players: 1-5
Genre: Racing, Arcade
Platforms: Nintendo Switch, PlayStation 4/5, Xbox One, Xbox Series X/S
Release Date: 25/02/2022
1992
Moto Roader MC first released on the Turbo Grafix back in 1992 and this is a case of if it ain't broke, don't fix it because retro feel and playability is what made it stand out then and what makes it stand out now. You can go head to head against friends in local multiplayer mode or the computer with a variety of race modes to choose from. It's very much a small package with plenty crammed in to keep you entertained.
---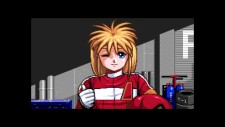 ---
16-bit 2D
As soon as you load the game up there is a clear feeling of the iconic Micro Machines from the menu layout to the game itself. Think Sega Mega Drive and SNES versions of MM and you will immediately feel at home here. The courses range from simple Daytona style ovals to courses with more twists and turns than a murder mystery.
Smooth Performance
There is no excuse for a game like this to have any performance issues and thankfully no excuses are required here. The cars are responsive, they zip about as you would expect almost like a virtual scalextrix, and it all runs flawlessly but I must give you an early warning. Whatever you do, before you start make sure you remap the controls. It's easy to do this in the options menu but whoever came up with the default controls must have been having a bad day as they are frustratingly horrible. Try out a quick race first and you will see what I mean and you will find once you change the controls to suit you that the game is great fun. I'm so glad the controls can be changed as if they hadn't been this would have been a good game ruined. Phew.
---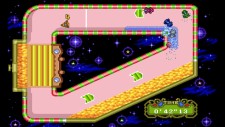 ---
Sounding Off
The car noises are what you would expect from a retro racer like Moto Roader MC. A bit whirry but they do change as you speed up and slow down. You also get to fire rockets too and their explosions are well realised throughout.
Variety
Single player, time attacks, plenty of courses and even the chance to design some of your own courses means that you have plenty of variety and content to keep you entertained. There is a decent slew of different cars and characters and trying to find the perfect match for you will take time and effort. Whilst the game is simple to pick up it does take time to get used to the handling of the cars so practice is essential.
The occasional issue I found with this game is that when you first start playing it can become tricky to see which is your car as the cars cross over each other and when things get hectic on the screen, and they do, it can quickly become confusing. I did get used to it after a few plays through and thankfully it doesn't do too much damage to the game and the enjoyment of it.
---
Fast, furious, old school retro racing with lots of content and all for a cracking price.
LWOGaming's Moto Roader MC Review – The Final Verdict
7/10
***Game Code Supplied by PR Hound***
Stay tuned to Last Word on Gaming for all the latest gaming news and reviews.