Want to try to unlock every sticker in Unpacking? If you loved this game as much as I did and want to feel the satisfaction that comes from completing everything, here's how to do it.
What Achievements Can I Get in Unpacking?
Achievements in Unpacking take the form of stickers. There are 27 stickers in Unpacking. Some of them will be automatically unlocked as you progress through the game, but others are a bit trickier to find.
Here's how to complete your sticker sheet in Unpacking
Story Stickers
There are several stickers that will be unlocked as you go. These are:
Wow! – This is unlocked by starting the game
Make Some Memories – You will unlock this the moment you unpack the camera in 1997
Green Thumb – This is achieved when you unpack and place every plant in the game
The rest are completed as you finish the chapters:
Beginning – Finish 1997
Get Smart – Finish 2004
Fellowship – Finish 2007
Too Cool – Finish 2010
Home Cooking – Finish 2012
Independence – Finish 2013
Love – Finish 2016
No Place Like Home – Finish 2018
Those are the easy ones. Now let's move on to the hidden stickers.
Hidden Stickers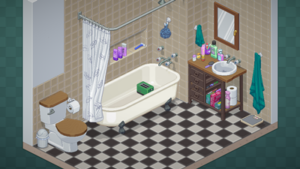 Some of these are super easy, others take a bit of patience as you have to flick between different chapters. In no particular order, here's what you need to do to get them:
Solve a Puzzle – Pick up the Rubik's cube (in any level – you'll first see it in 1997) and right-click until the puzzle is solved to earn a sticker.
Gotta Flush 'Em All – This is pretty self-explanatory. Find all the toilets and flush them to get this one.
Strike a Pose – In 2004, you'll find a wooden mannequin, the kind artists use. Right-click on this to change its pose a few times and you'll unlock the sticker.
Electrical Hazard – Put the toaster in the bathtub, in any level. (But please don't do it in real life.)
Blast Some Tunes – find any music player in the game and right-click to fire it up.
Game On – Interact with the Gamecube (it must be placed near the TV).
A Sometimes Food – Make a healthy choice by placing the cookie jar on the highest shelf in the 2004 chapter.
Tidy Whities – it's time to organize your boyfriends' socks and underwear. Place them in one drawer, and line them up neatly to unlock this one.
Less Than Three – Use the magnets to spell out 'I <3 U' on the fridge. Easy!
Brilliantly Solved – Keep using the magnets to spell out '1 + 2 = 3'. It has to be in a straight line for this to work.
12:00 – There are several blinking clocks in Unpacking, including the microwave and digital alarm clock. Right-click on any of them to unlock this sticker.
Rediscover Childhood – You may have noticed the Lisa Frank-style poster in 1997 (a dog with a halo and a rainbow in the background). Look for it in 2012 (it should be in the sliding shelves) and hang it back up again.
Hat on Head – You see the monster head thing that the girlfriend introduces in 2012? Grab any hat and place it on there. Job done.
Fuzzy Friends – in the 2018 chapter, place the pig and the tiger next to each other. You must place them in the crib or on the chair for this to work.
Baby Builder – in the same room in 2018, build a tall tower using wooden blocks.
The Hardest Sticker of All
I found this one a little tricky to do, and it takes a little bit of effort. Brew Some Coffee is unlocked in 2012.
Take the following items:
The electric tea kettle
The mug
2 coffee bean grinders
The kitchen scale
The coffee beans
The gooseneck kettle
The espresso maker
The pour-over gravity coffee maker
The milk warming cup
All of these can be found in the kitchen. You'll have to collect them together on the counter, similar to the image below.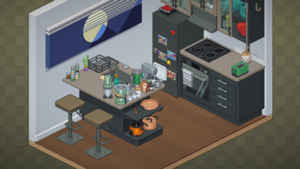 And That's How You Unlock Every Sticker in Unpacking!
And that's how you unlock all the stickers in Unpacking! You can find more indie game recommendations in Last Word on Gaming if you're after a new game to play: check out our guide on Indie Games to Pick Up This Christmas for some inspiration.