Mental health and video gaming are two things that don't always sit too well together but that is changing and what better example of that than a game that focuses on a journey though mind and matter? This is our Psychonauts 2 review.
Psychonauts 2 Review
Ra, Ra, Razputin…
The first Psychonauts title sits pretty close to being one of my favourite game of all time with sumptuous 3D platforming to blow your mind and the mind is what this is all about.
Everybody has mental health and the game focuses on that point as you, once more taking control of the large goggled Raz, attempt to support others minds and help them to overcome their flaws. There is plenty of comedy on hand that has you laughing out loud but also some very dark moments that will make you stop and think and can take your breath away without becoming too adult themed and therefore remaining a game that is suitable for most ages.
---

---
Plot
Raz wants to be one of the best spies there can be and become a fully fledged Psychonaut but he is only given an internship although that doesn't stop him wanting to prove himself on a mission to search out a mole within the espionage agency.
Following the rescue of their leader at the end of the first game, Truman Zanotto is still far from being himself and the Psychonauts must stop that mole. It could be a large hill to a climb.
Welcome to Psychedelia
Get the sun glasses out because this game is bright and colourful, full of psychedelic lights as you go deep into other characters brains and help them to battle their inner demons. As someone who has bi polar disorder myself I think I could do with a Raz every now and again!
You will encounter a dental level for example which I have to say made me cringe as I hate dentists and the bright white gnashers on display made me feel uncomfortable.
The nerve centre is lavished with colours and water features and neon lights are all around to really assault the senses but in a good way.
Controls
The controls have been well thought out and the use of the four trigger buttons for the skills Raz can pick up work well and are simple to navigate through. Skills you collect on your journey include being able to burn through posters which will often lead to hidden areas, being able to pick up items and throw them to your advantage and being able to levitate which comes in handy when the floor beneath you becomes electfified and you need to get through. Nothing feels superfluous and everything is well constructed.
My favourite skill has to be clairvoyance as you enter someone or something else's mind and see the world from their viewpoint. How often do we hear of trying to see things from another persons perspective and here you get to do just that. Sometimes it will be plain farce and on other occassions it will help you to work out what you need to do next. It is all just so superbly put together and even the most bizarre of scenarios will quickly make sense.
---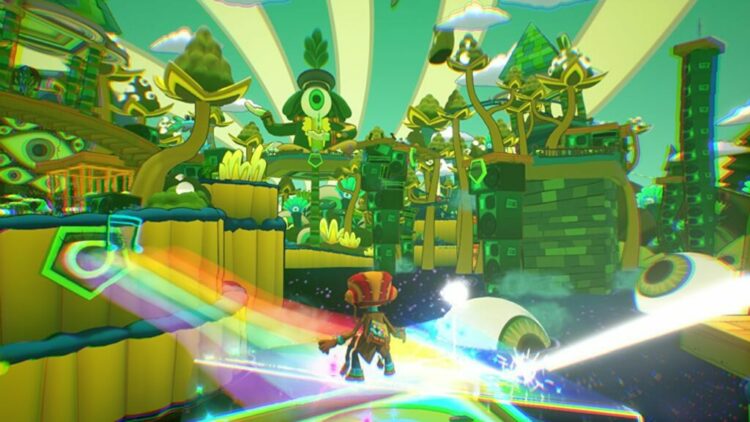 ---
Sounds Good to Me
The music is top drawer and reminds me of old comedy Police TV Series such as Police Squad or for those of you too young to recall that, think of the Naked Gun films with Leslie Nielsen and you will start to get my meaning. It is as madcap as the game itself and everything fits like a glove.
Honest Gaming
Raz may never hit the heights of fame of Mario or Sonic but he deserves his place in 3D platforming history for being a character who resonates with the gamer. Good, honest gaming action is all too often overlooked in a world of graphical superlatives but Pschonauts 2 nails it all.
The Last Word on Gaming Viewpoint
Psychonauts 2 is not the most difficult game you will ever play but it is one of the most enjoyable and will keep you coming back for more whether that be to enjoy the comedy again or to get that 100% score of collectables, pins and badges that are on offer.
I often talk to people about why gaming has sometimes managed to lose focus on what is important and that is the sheer fun of playing games: playability. How many games are there now that look amazing put play like utter tripe? Too many.
What Psychonauts 2 does is bring stunning cartoon style graphics that made me feel as if I was in a cartoon show, inutuitve controls and a narrative that will both bewilder and amaze in equal measure.
I feel there is so much more of the game I gave not yet explored and what really stands out for me is the games' understanding of human frailties and character flaws and if Psychonauts 2 helps others to do the same then it has achieved something very special and for me personally, this is a game that will forever hold a special place in my gaming heart.
Final Verdict ( Game Reviewed on Xbox Series S)
10/10
---