With less than a week til launch one of the most anticipated games in 2023, The Legend of Zelda: Tears of the Kingdom, is getting one last event the day before release. On 11 May, at 6:45 PST | 9:45 EST, long-awaiting fans can watch a Livestream Event at live.nintendo.com.
Read More: Voidtrain Research Guide
Tears of The Kingdom Launch Event Details
Get ready Legend of Zelda fans! We will be hosting a special livestream leading up to the @NintendoNYC midnight launch of the Legend of #Zelda: #TearsOfTheKingdom.

Tune in on 5/11, starting at 6:45pm PT/9:45pm ET to watch Nintendo Treehouse: Live & more!https://t.co/jRT5Suqrjl pic.twitter.com/wrORKEonxv

— Nintendo of America (@NintendoAmerica) May 5, 2023
Nintendo officially announced the event as part of its Nintendo Treehouse series and according to Nintendo's Twitter post the livestream will feature four live segments featuring gameplay from the title. Although there is not much more information, this may help quell the anxious fans base who have been patiently waiting for Link's newest adventure.
Pre-order Editions and Accessories
Still thinking of how to get your hands on a copy of Tears of the Kingdom? There are multiple ways to ensure you are ready for the 12 May release. The Nintendo Store offers three choices depending on your preference. They offer both the digital copy and physical copy for $69.99. For those who need more there is the Collector's Edition for $129.99. The Collector's Edition features a visually appealing Steelbook game case, ICONART game cover poster art, a pin set, hardcover art book, and a physical copy of Tears of the Kingdom.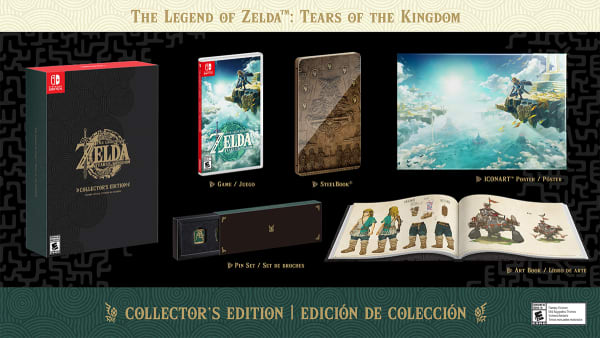 In edition, fans can also purchase a special The Legend of Zelda: Tears of the Kingdom OLED Nintendo Switch. This model is $359.99 on the Nintendo Store and is a beautiful rendition with stunning Zelda style art on the dock and Joycons. There will also be a new Link amiibo releasing alongside Tears of the Kingdom on 12 May. This amiibo can be used to receive weapons, materials, and paraglider fabric. Last, but not least there will be a new Nintendo Switch Pro Controller Tears of the Kingdom edition, for $69.99, to help a true Zelda fan complete their collection.
Read More: Age of Wonders 4 Units Guide
While the release date still lingers in the distance, the long awaited sequel is fast approaching and Nintendo is working overtime to ensure fans are getting the most before 12 May.
Stay tuned for more updates!
Stay tuned to Last Word on Gaming for all the latest gaming news and reviews You can always count on LWOG to be on top of the major news in the gaming world, as well as to provide you with analysis, previews, videos, interviews, and editorials on the world of video games.