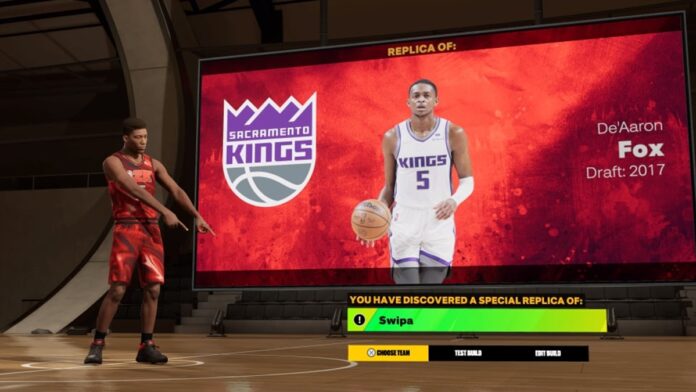 Replica builds are one of the most fun new additions to the 2K series. In NBA 2K23 there are over 50 different replica builds with their own easter eggs that have been discovered so far. In this article, we will be walking you through all the steps necessary to recreate a De'Aaron Fox build.
All Replica Builds: NBA 2K23 Replica Builds List: All Available Replicas
De'Aaron Fox Build in NBA 2K23
Base
Position: PG
Left Handed
Jersey Number: 5
Height: 6 foot 3
Weight: 185
Wingspan: 6 foot 6
Finishing
Close Shot: 90
Driving Layup: 85
Driving Dunk: 86
Standing Dunk: Minimum
Post Control: Minimum
Shooting
Mid Range: 81
Three Point: 85
Free Throw: 76
Playmaking
Pass Accuracy: 80
Ball Handle: 87
Speed with Ball: 89
Defense/Rebounding
Interior: 26
Perimeter: 80
Steal: 45
Block: 50
Offensive Rebound: Minimum
Defensive Rebound: 57
Physicals
Speed: 89
Acceleration: 89
Strength: 41
Vertical: 82
Stamina: 90
Takeovers
Some guides say that you have to pick the correct takeovers to make a replica build work, in our experience that isn't the case so pick whatever ones you'd prefer. It is possible this changes based on the console (i.e current gen vs. next gen).
This is all the information you need to unlock the De'Aaron Fox build. Upon completing the build you will be rewarded with an easter egg showing your player has shades of the "Swipa".
Play Style
De'Aaron Fox is a bucket-getter in the NBA and with this build you should also score at will. Driving to the basket off of screens will be fruitful, as will pulling up from the mid-range or from 3 if space opens up. This build also has enough defensive skills that you should be able to pull off some steals and make life difficult for the opposition PG.
Check out the rest of our 
tips & guides
 to find our other builds and tips for NBA 2K23.
Stay tuned to Last Word on Gaming for all the latest gaming news and reviews.