For many Football Manager players, the allure of taking a small team to glory is just too much to resist. The real issue comes with actually pulling this feat off. In this article, I will be detailing the best tactics to use when in the lower leagues of FM23. With a focus on one particularly helpful setup.
Read More: FM23 Goal Machines
Best Tactics for Lower Leagues in FM23
Tactic
For the lower leagues, I have found that one of the game's default choices works best. When selecting your new tactic head to the Gegenpress section and go with the 4-2-4 DM wide. While this is a tactic that occasionally gets exposed in the top flight, it is almost unstoppable in weaker countries and/or the lower levels of English football.
The first thing I do is move the two midfielders from DMs to CMs just to move them up the pitch a bit further. From there I make sure that my team's mentality is set to attacking, as this ensures your team will never let up the onslaught.
In Possession
Attacking width gets set to "fairly wide", turn OFF "Pass into space" option, and make sure to set "play out of defense", "Overlap left" and "Overlap Right" to green with a focus on playing down both wings.
For Tempo, always go with the highest possible option while passing directness can be at "standard" or "slightly more direct". Finally, make sure to set the team to work the ball into the box, dribble less, and be more expressive.
In Transition
When possession has been lost we counter-press but hold shape when possession has been won. Set the goalkeeper distribution to quick with short kicks to the defenders.
Out of Possession
This is the most vital section. The gegenpress really only works when the defence is tuned properly. Line of engagement is set to "high press" while the Defensive line is "higher". Trigger press is set to it's highest while preventing GK short distribution is greened.
Then select get stuck in, step up more, trap inside, and stop crosses to finish off the defensive tweaking.
Read More: FM23 Best Young Centre-Backs to Sign
Player Roles
Largely I have found this doesn't matter in the lower leagues except for one VERY vital setting. No matter what, set both wingers to be inside wingers or inside forwards. This setting tells them to crash the box more often and create goalscoring opportunities.
I have also found that having one striker set to Target Man or Deep Lying Forward next to a poacher creates a few extra chances per game.
End Result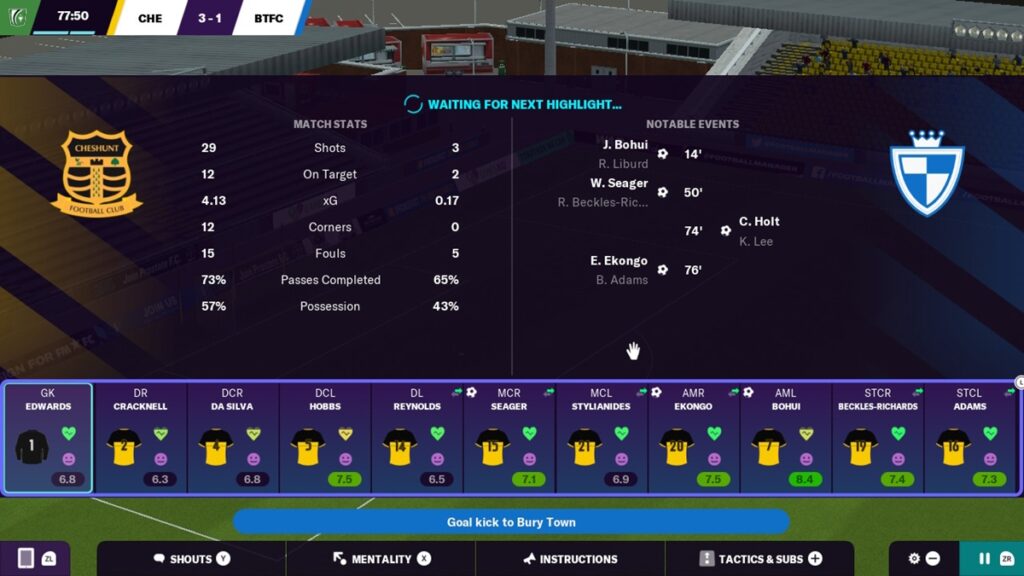 I have found great success with this setup in the Vanarama South as manager of Cheshunt. After 17 league games, I have 40 points, despite being one of the worst teams in the league, with 51 goals scored.
My top three goalscorers across all competitions have 14, 13, and 10 goals respectively, while another player has eight goals in eight games.
If you're a fan of attacking football then this 4-2-4 setup is the one for you, it almost guarantees goals and gets strong results to boot.
Leave your comments in the comments section below and let us know your thoughts!
What do you make of this tactic? Has it worked out for you? Would you make any tweaks?