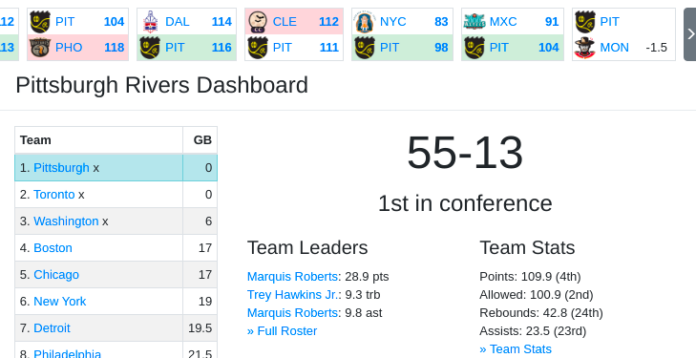 You may have played NHL or NBA2K's MyGM mode, NFL or MLB's franchise mode; but there's a small sect of the internet that takes the GM role to another level. Introducing ZenGM, the free and web-based general manager simulation game. 
ZenGM: The Finest Browser-Based Sim On The Market
What is ZenGM
The All-Star Game was only in basketball for a while, but now it's available in all sports in version 2022.07.11.1241. Details: https://t.co/efWUlnf758 pic.twitter.com/wrvCdacTA9

— ZenGM.com (@ZenGMGames) July 12, 2022
ZenGM is a free-to-play and web-based general manager simulation game. It is customizable and available for basketball, American football, baseball, and hockey.
Jeremy Scheff, the founder of the game, had always been infatuated with two things, sports, and coding. Standing at 6″3, Scheff played varsity basketball in high school. Additionally, he taught himself how to make websites and code as young as he was in middle school, and continued it through college.
But before ZenGM ever existed, there was just Basketball GM, a game that attempted to replicate Baseball Mogul, a product first published in 1997. 
"I wanted a basketball one, and it didn't exist. I got hooked on it, and thought, 'What if I could do that for other sports?'" And in fact, he did. Baseball Mogul inspired Scheff to create the first-ever prototype of his own GM game, Basketball GM. Scheff created the first-ever prototype of his game in 2008. The first version was not based on the web and required a download. 
Basketball GM v2
After nearly four years, Scheff decided to remake the game, only this time it would look better, run faster, and be more realistic. A key difference in this remake was its compatibility with web browsers. This recreation was the beginning of Zen GM which would be playable in your choice of browser. In 2013, the Basketball GM as we know it was released. In terms of looks, this version of the game is what eventually became the game we have today, despite the numerous changes to the game itself.
But there was still one large problem. How does one market this game? Some would find it through Google search, but a large source of the game's early users came directly from one single Reddit post. When Scheff posted this on the NBA subreddit, the views began increasing, and so did his desire to continue working on the game. 
Read More: NBA 2K23 Replica Builds List: All Available Replicas
Project Iverson
You can now start a real players league at the 2022 playoffs, version 2022.04.16.0072 pic.twitter.com/XKXVL6RWKM

— Basketball GM (@basketball_gm) April 16, 2022
Over the next 5 years, Basketball GM was a robust and smooth-running game, which continued at its rapidly improving pace. The addition of Project Iverson, a code-rewriting operation, helped the game's simulation speed, and drastically affected the enjoyment and reach of the game. In the week after the release of the project, approximately 12% more users enjoyed the game. However, the number of in-game seasons that users completed nearly doubled. 
The game's timeline continued to intensify in 2019, with the first release of Football GM. The game is very similar to Basketball GM, but, shockingly enough, simulates American football instead of basketball. Then in late 2020, the series took another leap.
How Basketball GM Added Real Rosters
The game of Basketball GM until this point was full of auto-generated players. Some users had taken the time to create their edition of NBA rosters, but the process was painstaking and few even attempted to participate. The downloadable rosters were controversial, and that caught the attention of one person in particular, 'nicidob'. Nicidob was fed up with some of these rosters, and began to put his mind to work. Eventually, he created a statistical model which enabled him to use player statistics to create an in-game version of real player rosters, controversy-free. Scheff picked up this idea and transformed this into the real player rosters that the game has today, enabling players to simulate the general manager experience dating back to 1947. 
This change has done wonders for the quality of the game as well as the player base, in the first half of 2022, a total of 274,175 league files were created using custom files and random players. This is less than half of the number of league files created using the real player rosters, which was a total of 809,087. 
Circling back to nicidob, the anonymous coder has been helpful in many aspects of Scheff's games. Scheff says nicidob has "helped with a bunch of different things in the game, a lot of it is algorithm-like stuff, but he isn't trying to redesign the user interface." Scheff added that "[nicidob] comes in and says: 'Hey this is a better way for contracts to be assigned to players in free agency. Or this could be a better way to determine if a trade is accepted or not." However, while speaking to both of them, it is clear that nicidob has no intention of taking credit for Scheff's masterpieces. Nicidob remains humble, saying that his contributions are "minor at best." 
Going Full Time
In an October 2020 interview, I asked Scheff about leaving his current occupation and pursuing ZenGM as a full-time job. So fast forward about three months, and an announcement hits the BBGM socials. Scheff announced that he quit his job, and is pursuing ZenGM as a full-time job. This was a difficult decision, but ultimately the right one for Scheff. When speaking to him recently, he said the following:
"When the pandemic hit, I was grateful to still have a steady paycheck, both because everything in the world seemed uncertain, and in particular online ad revenue collapsed early in the pandemic. During 2020, especially during the lockdowns when there was nothing else I could do, I spent even more time working on BBGM than I had previously. And by the end of 2020, Basketball GM was both more popular and more profitable than it was before the pandemic. I figured if a global pandemic couldn't knock BBGM off course, then I'm pretty safe to quit my day job." 
Read More: Top 10 Best Selling Consoles in Gaming History
ZenGM; A New Era
Added some key team stats (shots, powerplay success, takeaways, giveaways, faceoff win percentage) to the top of the box score in hockey, version 2022.04.16.0072 pic.twitter.com/4QuTuwNyYM

— ZenGM.com (@ZenGMGames) April 16, 2022
Using the same codebase as the game before, the ZenGM franchise doubled, adding both Hockey GM and Baseball GM, in late 2021 and June 2022 respectively. Both Hockey and Football GM had highly effective releases. Hockey GM's first 60 days garnered 41,024 sessions, and 29,966 sessions for the likes of Football GM. Baseball GM, amassed 75,893 sessions in its first 60 days, showing its impact on the ZenGM series. 
The creation of Baseball GM was truly monumental in that sense. Scheff said the following when asked about the initial release of Baseball GM. "When I released the new baseball game earlier this year, and as I'm looking at this game I'm thinking holy s**t, I'm going to release a new game, and I'm going to have some thousands of people play it right away. 
ZenGM has always been on the rise, whether that be in its player base, or the game itself. Updates happen often, and newcomers check out the game. The growth, ever since 2008, has been absurd, and it won't slow down anytime soon. Jeramy Scheff said it best; "That's kind of insane."