Puzzle Bobble 3D: Vacation Odyssey will receive a physical release on the PlayStation 4 and PlayStation 5 later in 2022. A concrete release date has not been announced as of this writing, but it is expected to ship in Q3 of 2022. The standard and collectors edition of the latest entry into the action/puzzle game can be pre-ordered from Strictly Limited and GamesRocket starting on April 7th starting at 4 pm CEST.
The story will follow bubble dragon brothers Bob and Bub whose vacation unexpectedly turns into an adventure. Puzzle Bobble 3D: Vacation Odyssey will be the first Puzzle Bobble game to venture into the world of 3D and virtual reality gaming.
Puzzle Bobble 3D: Vacation Odyssey Features
100 New Puzzles: Brand new 3D puzzles with special bubbles, fun power-ups and items add more depth and physics for a mind-bending challenge
Full PSVR Support [optional]: Virtual reality transforms players into a bubble-popping dragon with a first-person perspective, and even physicalized interactions when paired with PlayStation Move controllers. You can switch seamlessly between playing on TV and VR.
3 Distinct Puzzle Modes: Master the 100 progressively difficult puzzles in Story Mode, kick back and pop endless puzzles in Infinite Mode, or hop into online 1v1 Duel Mode, which supports matches across PS4, PS5, and PSVR.
Easy to Pick-Up-&-Play but Challenging to Master: Simple controls and intuitive game mechanics introduce puzzle popping in a fun, non-intimidating way
Fantastic tunes: Includes an all-new score by Zuntata, the composers for the original series!
Puzzle Bobble 3D: Vacation Odyssey Physical Collectors Edition Includes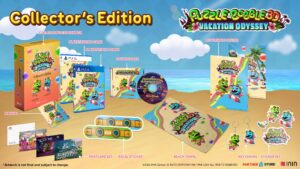 Special Collector's Edition Box
Colorful Game Manual
Original Soundtrack
Vacation Odyssey Beach Towel
Bub and Bob Acrylic Keychains
Double-Sided Poster (A2)
4 Die Cut Stickers
3 Vacation Postcards
Bub and Bob Goggle Decal Stickers (VR Headset Compatible)
Let us know if you will be pre-ordering in the comments!
Leave your comments in the comments section below and let us know your thoughts!
Stay tuned to Last Word on Gaming for all the latest gaming news, reviews and all your gaming needs!