Flat Kingdom Paper's Cut edition comes from Fat Panda Games and is a puzzle-type platform game that originally appeared way back in 2016 on PC but now it has made its way to consoles with my review being of the Xbox Series version. Take Rock, Paper, Scissors, pop it into a platform game and you have the essence of this title.
Flat Kingdom Paper's Cut Edition Review
Title: Flat Kingdom Paper's Cut Edition
Developer: Fat Panda Games
Publisher: Ratalaika Games
Players: 1
Genre: Puzzle, Adventure, Platformer
Platforms: Xbox Series, Xbox One, PS4, PS5
Release Date: March 29th 2022
Welcome to Flat Kingdom
If you grew up in the 1990's and 1990's like myself you may well remember a couple of shows called Mr Benn and King Rollo. These were essentially 2D, paper crafted animations that had a charm to them and that is the style that has been used in this game but it's fresher as well as maintaining that charm and retro feel. The characters move well and everything is fluid.
---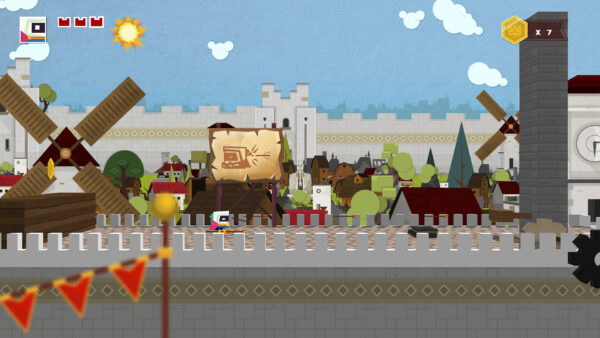 ---
Flat Kingdom is a world where peace has been destroyed and the Princess has been captured. Let's a go! Sorry, wrong game.
Easy Does It
If you are looking for a challenge then you won't find much of one here as this is a pretty easy game to defeat but that doesn't make it a bad game. Your characters takes three different forms, all changed at the click of a button. Circle, triangle and square and you need to understand each to beat the puzzles. The circle form is light and can double Juno to hard to reach places, the finagle form is ultra light and great for floating in water and the square form is your powerhouse. Slow, but strong to move blocks and drop through platforms. It's a neat way to work through a game and has been well thought out.
Rock. Paper. Scissors.
The developers have very much taken the idea of this old game and used it to good effect. If you come across an enemy that is round, you can beat it by simply becoming a square. You can use the round to defeat the square and so on. It's very simple but it is also very effective.
Flat Kingdom Paper's Cut Edition Review – The LWOGaming Verdict.
If you want a relaxing puzzle game or have younger kids then this is a great game for both purposes. I had a lot of fun with the game but it doesn't take long to beat. It's charming, it's well put together and proves that good things can come in small packages.
Flat Kingdom Paper's Cut Edition Review – The LWOGaming Verdict
7/10
**Review Code Supplied by PR Hound***