I was excited to play and deliver my Bush Hockey League review. I have loved the NHL games for many years with NHL '94 still in my opinion, one of the best ice hockey games ever made. Such games are thin on the ground when it comes to Nintendo Switch so an arcade game focusing on beer and punches more than ice hockey action should fit the bill but it doesn't quite hit the mark.
Bush Hockey League Review (Nintendo Switch) – If You Can't Beat 'em, Beat 'em. Literally
Title: Bush Hockey League
Developer: V7 Entertainment
Publisher: V7 Entertainment
Players: 1-4
Genre: Party, Fighting, Sports, Arcade
Platforms: Steam, Xbox One, PlayStation 4, Nintendo Switch
Release Date: 14th April 2022
Fight!
---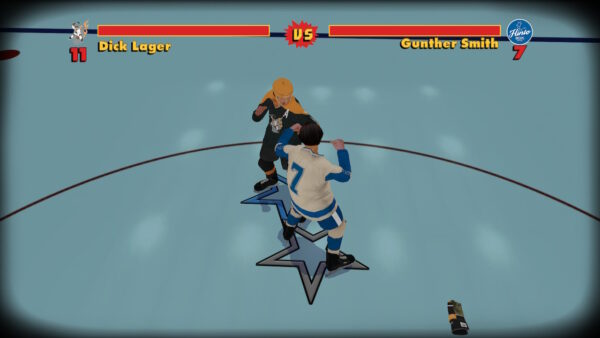 ---
Five years on from its PS4 and Xbox One launch, Bush Hockey League is back and this time you can play on the go on everyone's favourite hybrid console. If you are expecting a Nintendo Switch homage to the
NHL
series of games I will stop you right there. This is arcade gaming that focuses on the brutality on the ice, the humour of 1970's style Afro's and huge moustaches with some
ice hockey
thrown in for good measure.
The first thing that struck me were the loading times. For data heavy games and ports from next gen consoles I can forgive long loading times but here they are too long with little excuse. It was nearly 90 seconds for the game to fully load and even when choosing an exhibition match it was at least another 30 seconds plus before I got anywhere near starting a game. This was not a good start but it's the game itself that really matters.
---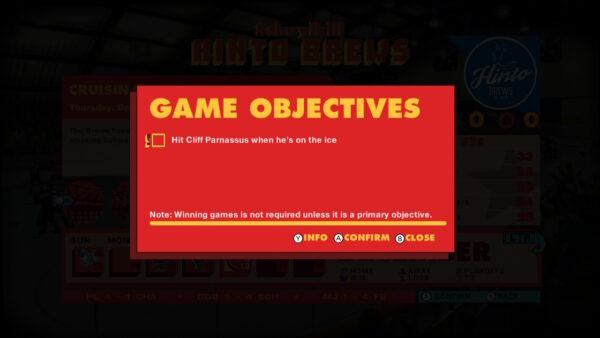 ---
Simple Interface
The interface is nice and simple. No need for long winded menus. You choose a quick exhibition game, local multiplayer or story mode. I went for a quick game first so I could get a feel for the game and once the loading screen had buggered off finally, I was on the ice at last. Graphically the game is a nod to 90's style sports games with fairly crude characters who are blocky but neat enough. You can choose from two sets of controls – retro or advanced and don't need me to explain the differences between them. The typical ice hockey music kicks us off with 'The Adams Family' theme as well as the 'Can-Can' from Bad Manners. Bizarre? You bet it is but it's enough to put a smile on my face as I ready myself for the face off.
---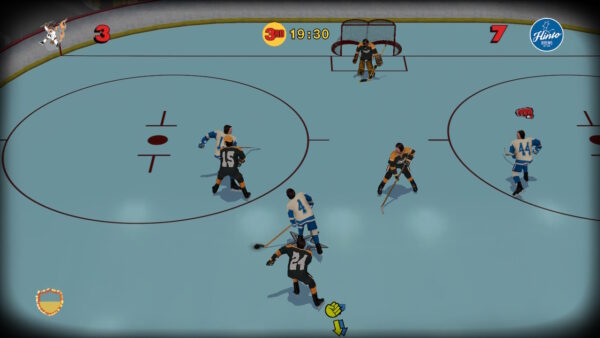 ---
You Dirty Lag!
I started with the retro controls and it was almost immediately that I started wonder what the hell was going on. The input lag was bad and when I said the game had a 90's feel I wasn't expecting to be having to hit each and every button hoping for the players to do what I was asking of them. Trying to hook an opposition player or even change your own player when defending feels very broken. When I did make tackles it was more luck than judgment. Added to that the puck seems to stick at the goal tenders feet with alarming regularity. I was having to hit the 'pass' button 4 and 5 times just to get a pass away. After 6 exhibition games I decided it was time to change the control settings with little hope it would make any difference but weirdly it actually did improve things.
---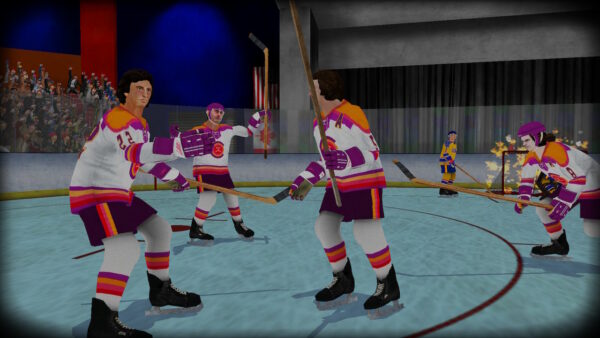 ---
Fun Starts to Creep In
The advanced settings where the right stick is used to shoot works much better. As I changed to this I started to get into the game and the amount of swearing I was doing vastly reduced. It's still not perfect but passing feels more intuitive and tackling much more precise although changing players still felt laborious. Scoring needs some work and there is no one way that will guarantee a goal which is a good thing. Too many sports games have obvious ways to score and take away the element of skill so it's nice to see that skill needed here and it makes getting the puck home much more enjoyable.
It's A Long Story
Story mode was the next stop which starts with the news that your team have fallen on hard times all of their own making. Boozy bust ups, ageing players and injuries have left you depleted and this is all presented through some amusing newspaper cuttings. A calendar takes you from game to game and there are achievements to hit in each game such as thumping a specific player in the face or scoring from a tight angle. Keeping a clean sheet or 'shut out' in ice hockey parlance is also a regular task but I failed to achieve this once.
---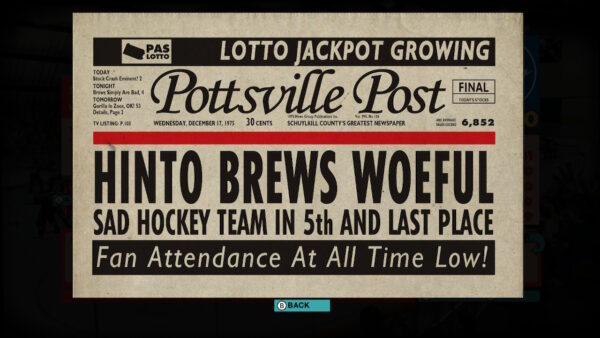 ---
Your aim is to improve the team but the story doesn't really create anything different in the gameplay itself. I stuck with the advanced controls which helped but the game is just too slow. Arcade games need to be quick, rapid, frenetic and this game is the perfect place to bring all that to the fore but it just never happens.
Fright Night
Fighting is a big part of Bush League Hockey but it is also undercooked. Punching doesn't feel naturally responsive and although it's got it's charms it fails to hit the mark. Where the game does shine a little is when you play with friends. Grab a few mates round with a few beers and there is fun to be had for a few hours but the overall package is buggy, laggy and just not as much fun as it could and should have been.
Bush Hockey League Review (Nintendo Switch) -The LWOGaming Verdict
5/10
***Review Code supplied by V7 Entertainment***