The announcement earlier this year that we were getting all new (kinda) DLC for Mario Kart 8 before we got a whole new game shouldn't have been a surprise. Yes, we all want a ninth game but Mario Kart 8 is still selling ridiculously well. And it doesn't seem to be stopping any time soon. So from a business sense, Nintendo have probably made the right choice by adding DLC to the game.
Wave One Is Here – Mario Kart 8 Deluxe Booster Course Pack
How Many Courses?
Forty eight courses are heading the way of Switch owners, over the course of six 'waves'. All done by the end of 2023. Which seems a long way off but maybe just in time for a Mario Kart 9 release!
The Golden Dash Cup
The first wave was released this past week with eight tracks covering two new cups and from various different games in the series. The Golden Dash Cup includes Paris Promenade (Mario Kart Tour), Toad Circuit (Mario Kart 7), Choco Mountain (Mario Kart 64) and Coconut Mall (Mario Kart Wii).
---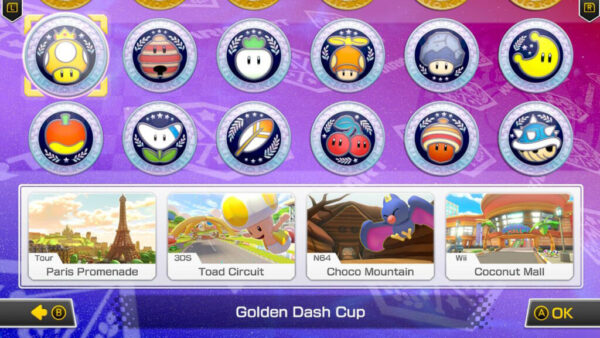 ---
I'm sure there's many people like me who love and play the various Mario Kart games often but haven't played that much of the mobile game World Tour. And because of this Paris Promenade feels like a whole new track and an interesting one at that. Fun but a little simple at first but then when the last lap comes around  new routes are available and  it becomes even more interesting.
Toad Circuit is a solid track from the 3DS game but I always found the track a bit too wide and therefore easier. While Choco Mountain looks completely different from its original Nintendo 64 days. Fans of the original will still enjoy it but the graphic style almost makes it feel completely new. Last on this cup is Coconut Mall, one of my favourites from the excellent Wii game. It's a track that is tricky to master but always fun to play.
The Lucky Cat Cup
Next up is Lucky Cat Cup. This includes Tokyo Blur (Mario Kart Tour), Shroom Bridge (Mario Kart DS), Sky Garden (Mario Kart: Super Circuit) and Ninja Hideaway (Mario Kart Tour).
---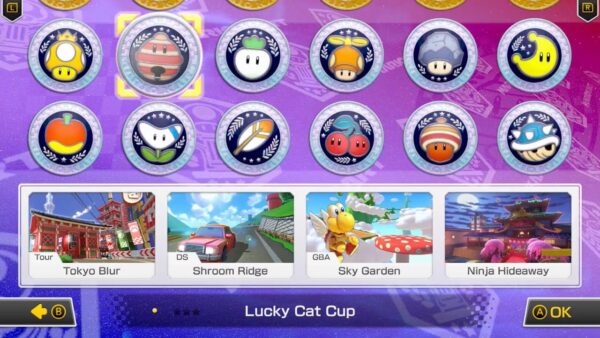 ---
Like Paris, Tokyo gets better as it goes on and the alternate route for the last lap is great. Mario Kart DS was a great addition to the series and while Shroom Bridge isn't its best track, I always have a soft spot for the tracks that feature real-life cars. So this is a good one for me. Super Circuit has a bit of a bad rep for many Mario Kart fans but I feel unfairly so. Sky Garden is one of many reasons why. A fun (I love the tracks where you can 'bounce'), colourful and great-looking track. Finally is Ninja Hideaway which is from World Tour although for some reason that is not mentioned in this version. It's the best track in this wave and the one that most feels like it could be for a whole new game. Taking inspiration from various other tracks in the series it has different levels and several obstacles, definitely a favourite to play against friends.
Still Going Strong
So that's it for Wave 1 and there's no complaints from me. There's plenty of variety, with older tracks being updated in ways that makes sense, while still feeling like a good fit for Mario Kart 8. I'm going to enjoy playing these over and over and can't wait for Wave number 2.
---
Leave your comments below and let us know your thoughts!
Stay tuned to Last Word on Gaming for all the latest gaming news and reviews.