It is time to take on the role of Robert Foster once more and head back to Union City in the sequel to the popular Beneath a Steel Sky. This is Last Word on Gaming's Beyond a Steel Sky review.
Back to Union City – Beyond a Steel Sky Review 
Title: Beyond a Steel Sky
Developer: Revolution Software
Publisher: Microids
Players: 1
Genre: Adventure, Cyberpunk
Platforms: Xbox One, Xbox Series X/S, Nintendo Switch, Steam, PlayStation 4, PlayStation 5
Release Date: December 14, 2021
26 Years in the Making
Beneath a Steel Sky was first released in 1994, a fact that I had to check a few times before I was convinced that this game first arrived 26 years ago. Boy does that make me feel old. Waiting for sequels tests the patience of most gamers – where is Mario Kart 9 (It's not happening) – and this wait has been longer than most could even cope with but at last it is here but has the long wait been worth it?
---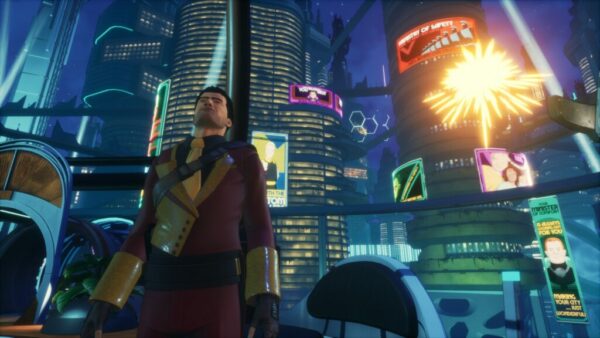 ---
Handover
At the end of the Beneath a Steel Sky, Robert hands over Union City to Joey who is left to make the city a better place and the sequel begins ten years later. There is an undoubted attempt here to bring back fans of the original but also to bring new players on board.
Take Me Down to The Paradise City
Robert has been enjoying his retirement but as we have just learned from James Bond (spoiler alert), heroes are only ever a step away from coming out of their relaxing lives and getting back involved where the action is and Robert heads back to Union City which should have become a paradise in the ensuing years but is that what has happened? Is it hell!
---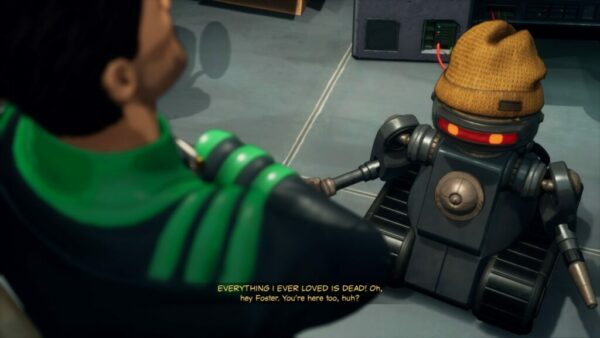 ---
Starting Out
As is typical of the first game and Cyberpunk style games you will need to offer out your services to a number of NPC's and speak to the right people so that you can get access back to Union City. As you start out you will find the body of a Graham Grundy and you steal his ID from him to help you on your way. As with the first title this does all feel a little nuanced at times and the controls occasionally feel a bit fiddly when trying to get rid of the birds eating the body. 26 years later and still that issues remains but it does also feel like it's historically accurate at least.
Behind the Walls
The opening sections of the game I have to say are pretty dull and feel like walking through mud at times but it is worth staying with the story as once you get behind the city walls the game starts to take off.
How being in the city works is well thought out and you will need to build up your Qdos by participating in activities such as elections and whilst these may sound mundane the higher your Qdos the better your social reputation and vice versa.
The City is run by MINOS just as in the first game and the technological running of the city is a key focus. The story around the abduction of a child feels chilling and cold and a convincing atmosphere has been created. Despite its dark base, there is also plenty of fun to be had in Union City and the story does make sense although the ending is not altogether satisfactory in my opinion but you need to find out for yourselves as I don't intend to spoil the game for you like I did with James Bond earlier. (only slightly)
Character
The characters are all enjoyable in Beyond a Steel Sky and the standout is not the main protagonist in Robert but rather his pal Joey the robot who is very funny and 'kudos' should be given to the games' creators for giving Joey a fabulous script. I'm not saying Robert is dull because you will find out much about him as you go through the game but Joey really does stand out and I can't see anyone not loving the cheeky little bugger.
Sound and Vision
I just love comic books and the visual style of Beyond a Steel Sky uses that style perfectly in terms of creating that animated narrative and it looks superb. There is some annoying pop in at certain times in the game but thankfully it doesn't affect what you are doing although it can be frustrating just for being there.
The music is both emotional and compelling and feels so right for a cyberpunk universe and is a huge improvement on the original game as it should be after 26 years have passed by.
The camera can be fiddly at times and a tad jerky which is frustrating but it's more of a blip than a curse overall.
---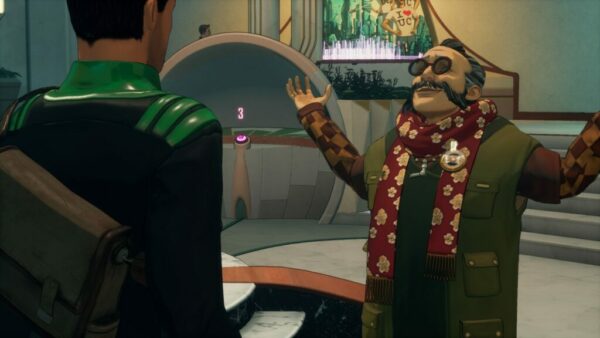 ---
Beyond a Steel Sky Review – A Cyberpunk Adventure Worth Your Time
The Last Word on Gaming Verdict
Whilst there are some annoying quirks in the game, they are mostly able to be overlooked and could easily be rectified in a post release patch although I passionately believe that post release patches shouldn't be needed but I digress.
For adventure fans and fans of graphic novels there is plenty of content in Beyond a Steel Sky with great character portrayal and music that really evocates the word you must survive in and overall it is a great game worth serious consideration.
8/10
---
Leave your comments in the comments section below and let us know your thoughts!
 Stay tuned to Last Word on Gaming for all the latest gaming news and reviews. Follow us on Facebook, Twitter, and join our Discord Server.