PowerA, a global leader in video gaming accessories, has unveiled a brand new Kirby controller and case combo inspired by Kirby's 30th anniversary. The Kirby-themed Enhanced Wired Controller for Nintendo Switch is now available for purchase in the UK and the US, and the matching Protection Case for Nintendo Switch – OLED Model, Nintendo Switch and Nintendo Switch Lite is set to become available in July.
Kirby Controller & Case Announced by PowerA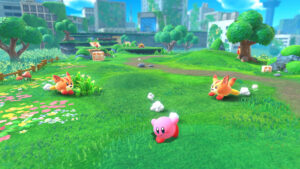 Features
Looking as mouthwatering as candy, the officially licensed Enhanced Wired Controller takes influence from the adorable protagonist's character design, with his signature pink color having a prominent focus. Just like other Enhanced Wired Controllers within PowerA's catalog, the Kirby variant is equipped with Mappable Advanced Gaming Buttons to help players swallow up the competition, and its lengthy detachable 10ft USB Cable allows players to game from a comfortable distance.
The officially licensed case for Nintendo Switch – OLED Model, Nintendo Switch, and Nintendo Switch Lite will keep your Nintendo Switch device snug and secure as though it has been inhaled by the Pink Puffball using his signature copy ability. Brought to life with shades of candy blue and pink, the case is as adorable as Kirby himself, and it's even equipped with a built-in stand which is perfect for gaming in Tabletop Mode.
The Kirby controller isn't PowerA's first foray into custom designs as the group celebrated Cuphead with a similar special design.
Nintendo and others have been quick to celebrate the 30 year anniversary of everyone's favorite pink blob, especially with the release of Kirby and The Forgotten Land.
Read More: Full List of Kirby And The Forgotten Land Codes