This past weekend at the Future Games Show, Lost in Play was announced. The point and click puzzle game from Happy Juice Games and Joystick Ventures will be released on the Nintendo Switch and PC via the Steam Store on August 10th, 2022.
Lost in Play Coming This August 
The game is designed to take gamers back in time to a simpler time when we enjoyed spending time outside on a sunny day after school. The game's graphics a heavily based on cartoons from the past and present to compliment the theme of the game.
The plot follows siblings Toto and Gal on a feel-good adventure where they explore dreamscapes and make friends with various magical creatures. They must work together to solve puzzles to make it back home. The 2D game is designed to be family-friendly and to be enjoyed by all ages and gaming skill levels.
Lost in Play will feature:
A mysterious animated puzzle adventure with amazing, cartoon-style visuals.
Magical and magnificent creatures throughout.
No text or dialogue – everything is communicated visually in an endearingly universal way.
Inspiration from TV shows such as Gravity Falls, Hilda, and Over the Garden Wall.
A variety of uniquely creative activities to take part in; play cards with goblins, create a dragon, and teach a sheep how to fly.
More than 30 unique puzzles and mini-games.
Lost in Play will launch on both Nintendo Switch and Steam on Wednesday, August 10th, 2022 for $19.99/€17.99/£15.49.
"This is a game you and I can play in front of our kids to show them a little slice of our collective childhoods. That's why we were so inspired by the spirit of the cartoons we all grew up watching, using the sense of adventure they convey to connect with the younger generation. Recapturing that magic that we tend to lose when we get older is what we set out to achieve, and we think people will enjoy finding the charm, the nostalgia, and the feel-good factor whilst they're Lost in Play." – Yuval Markovich, co-founder Happy Juice Games.
Featured Image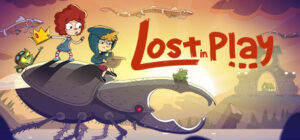 Leave your comments in the comments section below and let us know your thoughts!
Stay tuned to Last Word on Gaming for all the latest gaming news and reviews. Follow us on Facebook, Twitter, and join our Discord Server.