Ready to take responsibility for the maintenance of aircraft and the passengers' well-being? Airport Sim from MS Games will let you do just that. The new simulator was announced this past weekend at the Future Games Show. The game can be added to wishlists on Steam now.
Airport Sim Coming to PC
The simulator will put gamers in control of the ground crew at four different airports. Gamers will be dealing with the behind-the-scenes parts of an airport as they deal with real-life scenarios including weather delays.
Gamers will be put in control of various work vehicles and will have to time tasks to create the optimal workflow for employees, passengers, and crew members.
The game will feature two main modes. In the campaign mode, gamers will handle flights based on real timetables. In free play, gamers will deal with the ground crew who are fighting against random events and weather conditions.
Steam currently shows a release date of Q2 2023.
Airport Sim Main Features: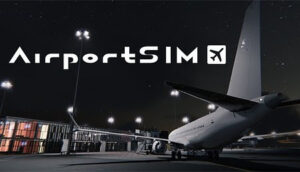 Faithfully recreated airports: Vágar, Keflavik, Key West, and Frankfurt (more to come later as DLCs);
Licensed technical vehicles, created based on real schematics and blueprints;
Most popular commercial aircrafts e.g. Boeing 737-800 or Airbus A320 NEO;
Different gameplay modes: Campaign, Free Play, Co-op and Visitor Mode;
Real-life weather conditions were created using data from METAR (a weather report for aviation professionals);
Customizable weather conditions;
Faithful representation of the sun's position in the sky based on geographical location, time and date;
Real ground crew tasks, recreated after numerous interviews and based on existing documentation and procedures;
Steam Workshop support – allowing to modify the machines and gameplay;
Leave your comments in the comments section below and let us know your thoughts!
Stay tuned to Last Word on Gaming for all the latest gaming news and reviews. Follow us on Facebook, Twitter, and join our Discord Server.