PUBG MOBILE is teaming up with Amazon Prime Video to bring the Boys to PUBG with the Supe Spree in-game event.
Season 3 of The Boys will release on Prime Video on June 3rd. Gamers will be able to pick up exclusive collaboration items including the super suits of Homelander, Starlight, and Soldier Boy, as well as weapon skins, backpacks, a unique Supes parachute, and much more.
PUBG Mobile Teams Up With THE BOYS Via In-Game Event
The in-game event "Supe Spree" will begin on June 8th. Gamers will join Billy Butcher of The Boys as they build an investigation squad and search for clues to prove superhero wrongdoings. The storyline follows a series of unsolvable murders in New York City. Wall Street brokers and their clients are being murdered all around the city and the police have no clues in the case while the public demands answers.
To complete each challenge gamers must work with characters from the show or in-game friends to crack the case. Gamers will find evidence and reveal the superhero behind the murders. The event will also have weekly challenges giving gamers more chances to earn additional perks and rewards.
The PUBG Mobile event will run from June 3rd to July 3rd and is available in North America, South America, and Europe.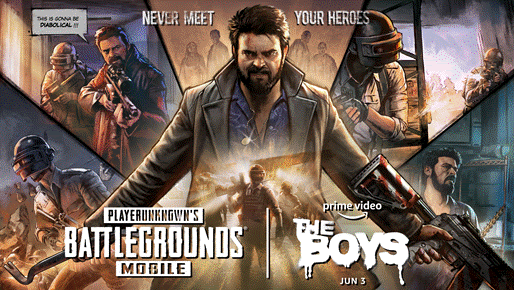 PUBG MOBILE is based on PUBG: BATTLEGROUNDS and was originally released in 2017. The battle royale has up to 100 players parachute onto a remote island to battle. Gamers need to locate their own weapons, vehicles, and supplies, and defeat every player on the map.
Leave your comments in the comments section below and let us know your thoughts!
Stay tuned to Last Word on Gaming for all the latest gaming news and reviews. Follow us on Facebook, Twitter, and join our Discord Server.