Destroy All Humans 2 – Reprobed will be released on August 30th for the PlayStation 5, PlayStation 4, Xbox Series S/X, and PC platforms. The pre-order is now live and can be pre-ordered in standard, Dressed to Skill, and 2nd Coming Physical Collector's Edition.
Destroy All Humans 2 – Reprobed Now Available for Pre-Order
The remake of Destroy All Humans 2 will feature a variety of features including:
Show those hippies who's boss using classic weapons and new technology like the Meteor Shower
Explore 1960's Mother Earth and unload your trusty saucer all over her fictional cities
Defend a much larger, much more open world from those who seek to undermine your mission
Hoover up humans from different countries and grind them up into DNA cocktails to upgrade your skills
Invite a friend over for a twosome and enjoy the full story in local 2-player split screen co-op
The game will come in two different editions. The standard edition will retail for$ 39.99 / € 39.99 / £ 34.99. The Dressed to Skill edition is available for $ 54.99 / € 54.99 / £ 44.99. Pre-ordering the game will give gamers a download of the stand-alone spin-off Destroy All Humans Clone Carnage. The spin-off has 4-player online gameplay and 2-player local multiplayer. Clone Carnage is also available for separate purchase for $ 12.99 / € 12.99 / £ 9.99 today.
Preordering the Dressed to Skill edition will also give gamers a skin pack. For PC gamers, the Official Orchestral Score, as well as the Digital Art Book, will also be part of the "Dressed to Skill" Edition.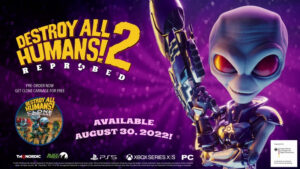 Destroy All Humans 2 Reprobed can be preordered through the below links.
PlayStation: https://thqn.net/dahcc-playstation
Xbox: https://thqn.net/dahcc-xbox
PC – Steam: https://store.steampowered.com/app/1872550/Destroy…
Leave your comments in the comments section below and let us know your thoughts!
Stay tuned to Last Word on Gaming for all the latest gaming news and reviews. Follow us on Facebook, Twitter, and join our Discord Server.