Have you ever wanted to run a cate cafe? Do you even know what a cat cafe is? Well, either way, Cat Cafe Manager offers you the chance to step into the role as manager of your very own Cat Cafe in the village of Caterwaul. In this Cat Cafe Manager review, I will be talking through the highs and lows of this addictive simulation game.
Cat Cafe Manager Review for Nintendo Switch – A Cat Above The Rest
Title: Cat Cafe Manager
Developer: Roost Games
Publisher: Freedom Games
Players: 1
Genre: Simulation, Management
Platforms: Nintendo Switch & PC
Release Date: April 14, 2022
Addictive As Catnip
Cat Cafe Manager is a pretty simple game at its core. Serve customers, gain resouces, attract and level up cats, grow your restaurant, and eventually employ staff. It isn't a groundbreaking simulation style of gameplay but I found it really addictive. The days go by so fast that it's easy to keep thinking "just one more, just one more".
I found it pretty easy to progress and build up the sanctuary for the early part of the game which went a long way to keep me playing. Games like this often have to toe a line between dangling the carrot of progress in front of you but also keeping it out of reach so I work for it, Cat Cafe Manager managed this really well for the most part.
Lovable Characters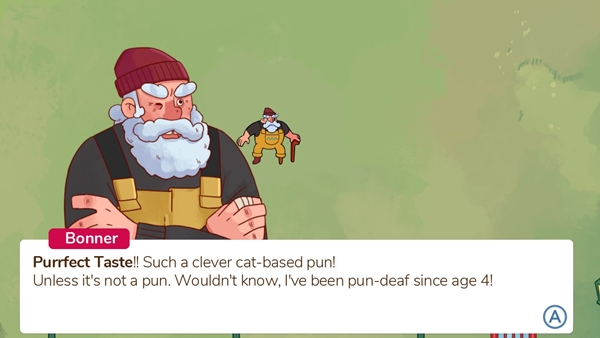 I really liked all of the regular characters in Cat Cafe Manager and the sense of humor that shined through in interactions. While the game wasn't always humorous it could make me laugh when it wanted to, like in the image above.
The regular cast of characters and the relationships I formed with them were an important part of carrying the story of the game. Not only does building relationships unlock further upgrades but it allowed me to gain further insight into the people in Caterwaul, before ultimately bringing them all together at the conclusion of the game.
These characters all had interesting personalities and lives that I was happy to learn more about. I loved hearing Bonner tell tales while gushing over his husband, I was interested in hearing about Finley's attempts to make the music she enjoyed, I liked watching Mateo learn the errors of his ways in trying to commercialize Caterwaule and make it something it isn't.
Cat Cafe Manager didn't need to have characters like this, the simulation is strong enough to stand alone. But adding interesting characters and an easy-to-follow story benefitted my enjoyment.
Minor Issue Build-Up
While I thoroughly enjoyed Cat Cafe Manager for the most part I did have some issues with it. These are all minor issues but they built up over time and prevent the game from reaching perfection.
One issue I kept running into was the interaction. To serve a customer, pet a cat, or do just about anything I have to walk up to it and hold the Y button. The issue is the game is picky about when this input will register and when it won't. Sometimes I found myself having to zig-zag in order for the game to realize I wanted to interact with something.
The AI of my staff had similar issues. Sometimes they were completely on the ball and everything would run smoothly but other times they would randomly stop doing anything and stare off into the distance while the cafe is full of waiting customers.
This leads right into another small issue I had with the staff. I would have liked to have the option to assign certain staff to a role like cooking or taking orders. It would've made hiring and leveling up specialists feel better than hiring a cook who will take orders anyway despite not being as good at it.
My biggest complaint, however, was that I found it almost impossible to keep a consistent supply of nectar. I understand that juggling resources is part of the "manager" aspect of Cat Cafe Manager but I never had similar issues with any other resource. Unless I advertised only to witches for days at a time I would end up running low on Nectar as it's the only resource used to pay for ingredients. This isn't a game-breaking issue or anything but one that definitely detracted from the fun of the game.
Cat Cafe Manager Review – Final Thoughts
Cate Cafe Manager is an addictive management simulation game that balances enjoyable gameplay with a good supporting cast, an actually useful skill tree, and a heartwarming story. A couple of minor issues hold the game back from perfection but it's a great game nonetheless.
Cat Cafe Manager Review Verdict – The Last Word on Gaming Viewpoint
8/10
**Review code supplied by Freedom Games**
What do you think of our Cat Cafe Manager review?
Have you played the game and if so were you a fan?
Leave your comments in the comments section below and let us know your thoughts!
Stay tuned to Last Word on Gaming for all the latest gaming news and review
Featured Image