Leading Polish game developer Flying Wild Hog's free-to-play looter-shooter Space Punks will receive its third early access content patch today. As the name implies, "The Friendly One" will make it easier for players to play together by improving the party system and overhauling the social UI of the game.
"The Friendly One" Patch Launches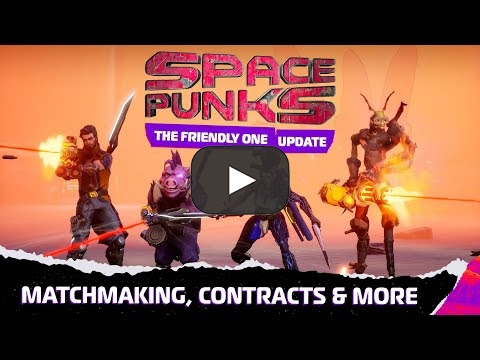 What's Been Improved
Following on from mechanics focused "The Crafty One" and "The Talented One" updates, "The Friendly One" is primarily focused on back-end improvements for Space Punks, with technical overhauls to systems designed to make the player experience smoother. The patch upgrades the system behind parties, making it easier to join, stay in, leave and rejoin as well as simplifying inviting players you have previously grouped with to your hub world of Devil's Gambit.
There are also more player-facing updates coming, with an entirely new in-game social UI which will make enjoying the back-end improvements that much easier. Improvements are also coming to contracts and Space Punks' daily and weekly challenges to make the whole system more user-friendly. These include changes like being able to check challenge progress in missions, pop-ups to track progress, and better indicators of when you've ticked something off your to-do list. The patch also includes numerous balance tweaks and bug fixes.
Head of Flying Wild Hog's Krakow Studio and Space Punks Game Director, Michael Kuk said: "This update provides players of Space Punks the opportunity to really explore the multiplayer aspect of the game, and delivers on one of the core tenets of the living game we want Space Punks to become. A community-driven game where player feedback is integral to the design process, and that players can keep coming back to again and again. It's hard to believe it's only been a few months since our early access launch, but we have a lot more we're looking forward to adding to Space Punks in the very near future, and can't wait to show the community what we have up next."
Full patch notes for the "The Friendly One" update are available here: https://www.playspacepunks.com/updates
Early Access Exclusives
Players can still dive into Space Punks's Early Access by purchasing Founders Packs via the Epic Games Store: www.epicgames.com/store/p/space-punks. Founders Packs come in two varieties:
Swag Pack: The basic pack for any budding misfit provides guaranteed Early Access and unlocks all four main characters. It also features a Season 1 Battle Pass for Open Beta and exclusive backgrounds, four emotes, the Epic Cape and Epic Dash effect. Price: $29.99 / €23.99 / £21.99
Splendor Pack: The ultimate starter kit for only the hardcore scoundrel features everything in the Swag Pack as well as other additional benefits – four Epic Character Skins, Epic Player Entrance, and Scaraby 8G companion. Price: $49.99 / €39.99 / £34.99>